Tuesday 4 May 2021

at

18:00h
with G Caruso
Learn drawing and mixed media techniques for urban landscape sketching. Whether you want to draw your immediate surroundings or keep a record of places you have visited, this workshop will introduce a variety of techniques for approaching landscape.
Sketchbook Practice Workshops Series
This workshop is part of the year-round workshop series Sketchbook Practice. See scheduled modules for the entire year HERE. Join at the start of any module!
Our Online Workshop Format:
- Livestreaming classes take place via online video conference (using Zoom). The instructor conducts live demos with step-by-step instruction so that you can work together in real time. You also have the opportunity to ask questions and get feedback during class time.
- We keep class sizes small and the atmosphere is interactive and supportive.
- Finish exercises or practice at your own pace, at home, outside of class time.
- Receive individual feedback on your completed work and exchange comments and questions with the instructor and your fellow workshop participants in an encouraging environment.
- Find supplemental material and watch the progress of other participants by visiting the workshop
- Dropbox folder in between classes.
Recordings from each week's livestreaming session are available in case you miss a class or want to review a demo.
REGISTER HERE: https://berlindrawingroom.com/workshops/sketchbook-practice-urban-landscape/
May 10 – July 5, 2021
8x Monday from 6-8 pm CET
(6pm in Berlin, 12pm in New York, 9am in San Francisco, 5pm in London)
Online
Cost: 230 Euros
(includes 19% VAT)
---
---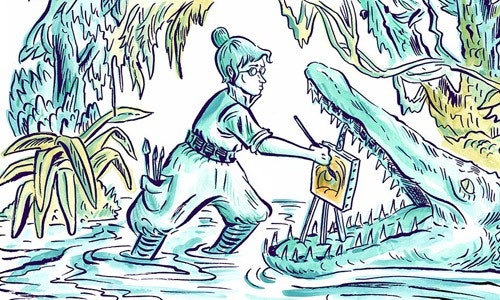 ---