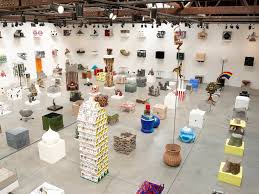 Sunday 17 March 2019

at

23:00h
A big exhibition of diminutive artworks! Size Matters invites artists to produce works that measure precisely 5cm squared, cubed or prismatic, or multiples thereof. No matter the subject that the artist engages with, Size Matters aims to encourage the artist to consider the impact of scale on their work.
5cm might be tiny if your practice is architectural or elephantine, but ginormous if your work is microbial or introspective.
Does a 5cm square become a tiny window onto a big issue like climate change or inequality; a window so tiny that you can't see the wood for the trees? Or does it become a focus on one small part of the bigger picture; an example or just one cog in the wheel? Equally, could the 5cm scale elevate an insignificant experience that would otherwise not be mentioned at all? Given the slightly unorthodox size and shape for an artwork, submissions might reflect directly on the nature of scale or format. As well as painting, print, drawing and sculpture, submissions may also be for installations, films, sound or performance work.
As well as intending to pose a conundrum for any artist, Size Matters also serves as a metaphor for the individual within a community. As a whole, the mass of many artworks, each with their own individual concerns, share a form that gives them aesthetic unity. It represents a varied populous each dealing with a common problem in their own way.
(image: Keith Tyson's Large Field Array 2006)
---
---
---