.
.
.
"From physical to digital, material to immaterial."
.
.
.
.
My design practice focuses on how hybrids of material concepts converge and intersect. Combing tactile bio materials and algorithmic design, I aim to explore how a combination of natural processes and technology can lead to a more sustainable design future, disrupting contemporary manufacturing and offering hope for new methods of making.
.
.
.
.
The project speculates a simulated ecosystem where biomaterials grow, decompose and shift form in reaction to the changing environments . The project explores sustainable design solutions through combining biodesign, digital fabrication, 3D-generative simulation and traditional textile design. The two main materials involved in the project: algae extract coming from seaweed, was used as the support structure of the design; Silk cocoon protein - 'sericin' - as a biowaste is commonly discarded in industrial wastewater from textile manufacturing. Developed utilising the properties of this protein material, I was able to engineer surface shape-change controlled by its surroundings - humidity, temperature, etc. This results in shrinkage and creases in specific areas of the textile in response to its local climate.
.
.
When seasons change from humid summer to dry winter, the biotextile stiffens and appears to be more sculptural, vice versa. When worn as a garment, the material 'performs' when parts of the wearer's body harms up or sweat, or when the local climate starts to shift. This change of states can truly be infinite, which is hugely exciting.
.
.
As well as utilising tactile engineering, much of the material's design was engineered using 3D technologies. To design silhouettes, I first 3D-modelled my toile and simulated the textile material movements in various virtual environments. After documenting how the virtual textile flows, I focused on a handful of curated designs selected from hundreds of generated silhouettes which were developed further in detail.
.
.
3D animation became one of the final presentation mediums, showcasing the product in a virtual showroom. This presented the conceptual 3D textile collection, a biomaterial archive and animated visuals in a virtual gallery floating above the ocean, where digital versions of the design outcomes, research images and biomaterial samples gradually sink into the ocean. Accessed online or through a VR headset, the showcase enables an immersive experience where the decomposition process performs around the viewer, as well as immersively examining the biomaterial on a micro scale, speculating the amplified inner structure of the design objects. The virtual aspect of the project means the finite nature of the degradable textile is transformed into an endless digital artefact which can be accessed from all over the world.
.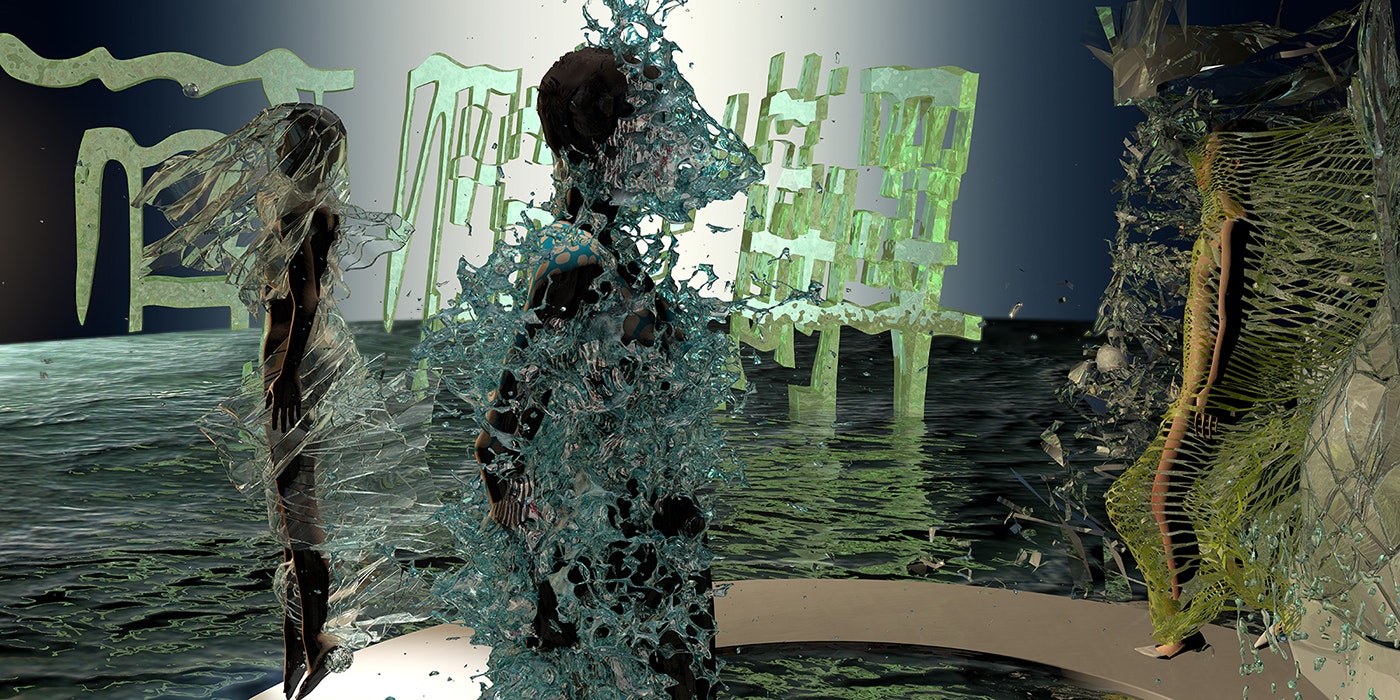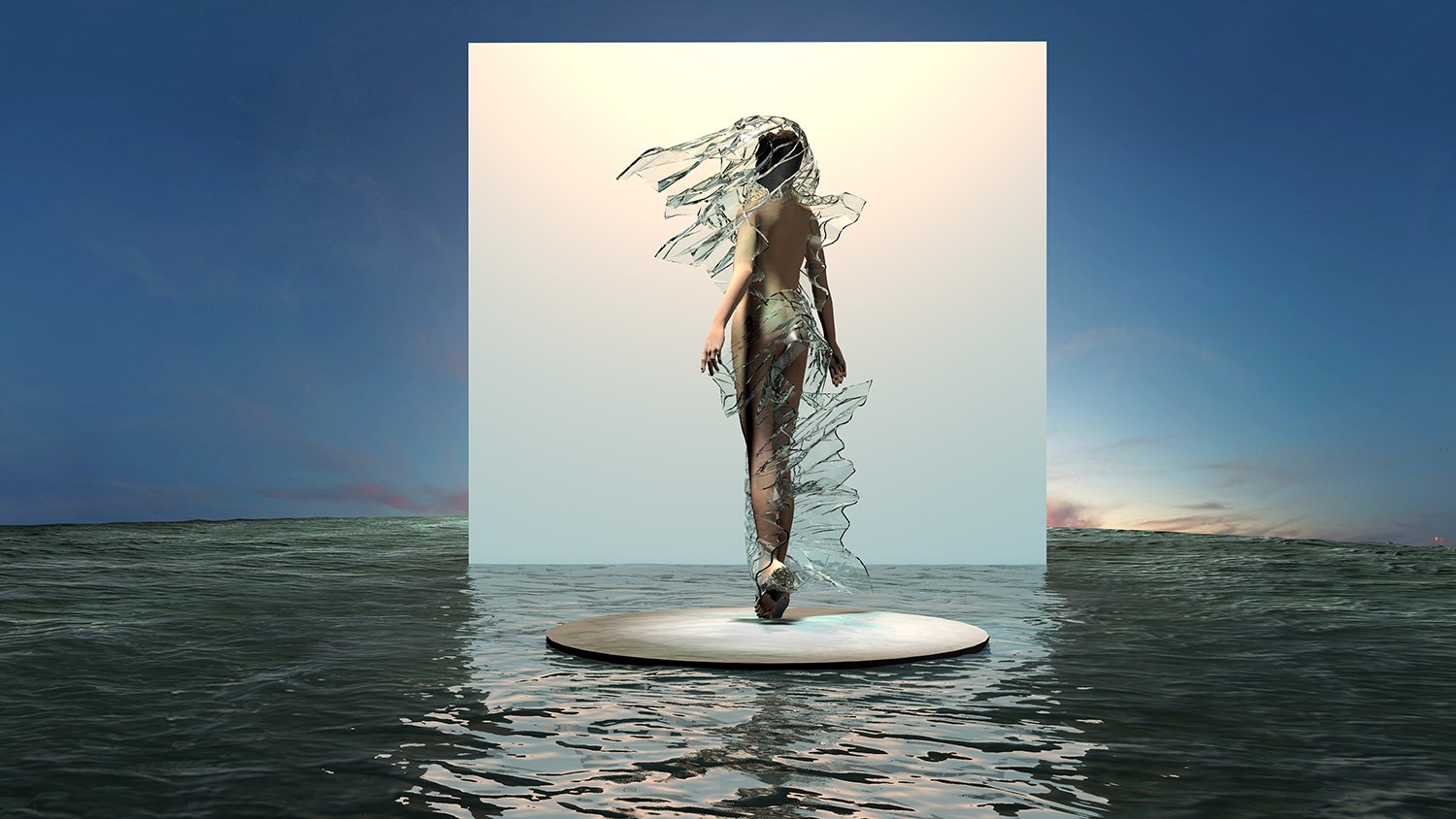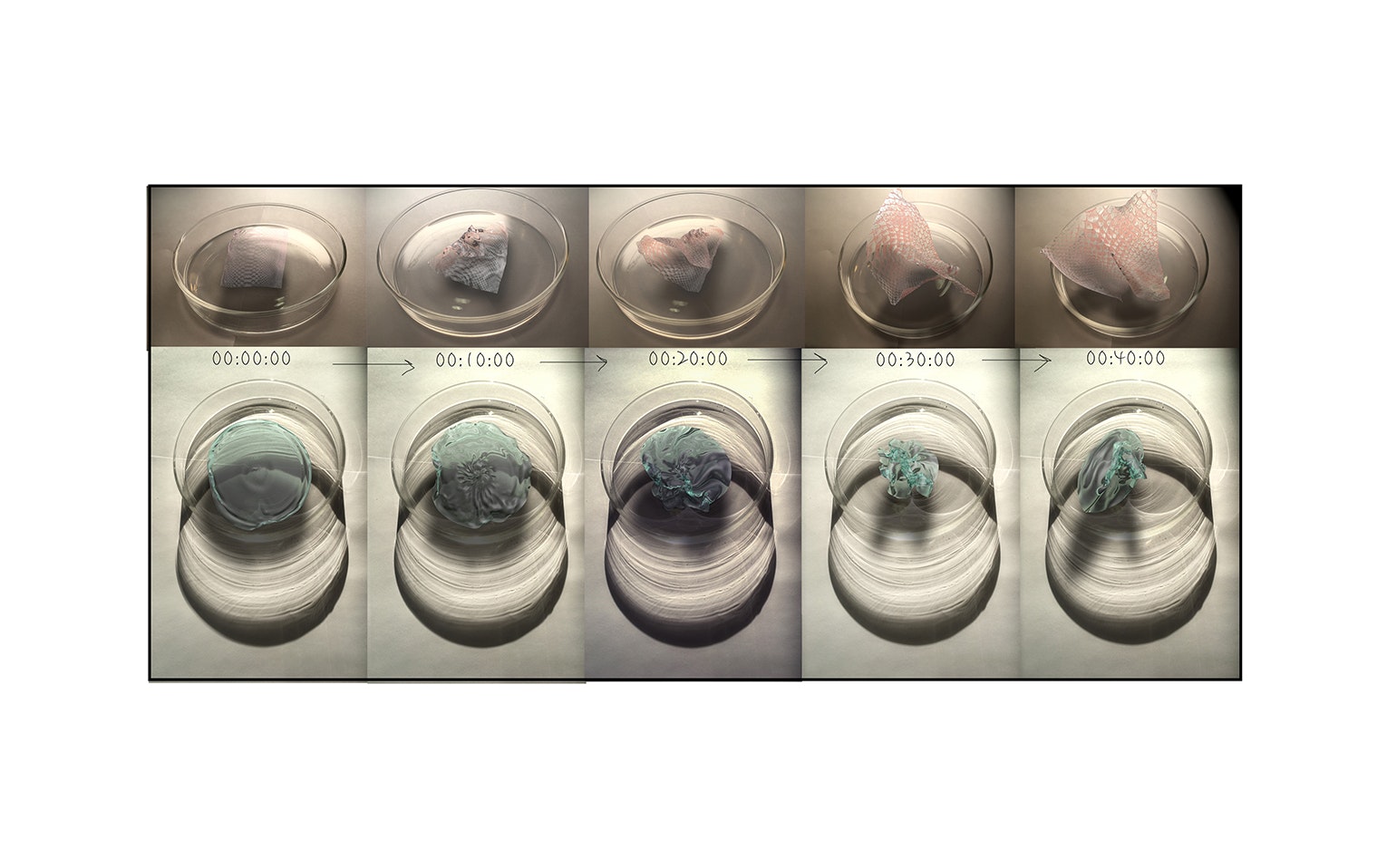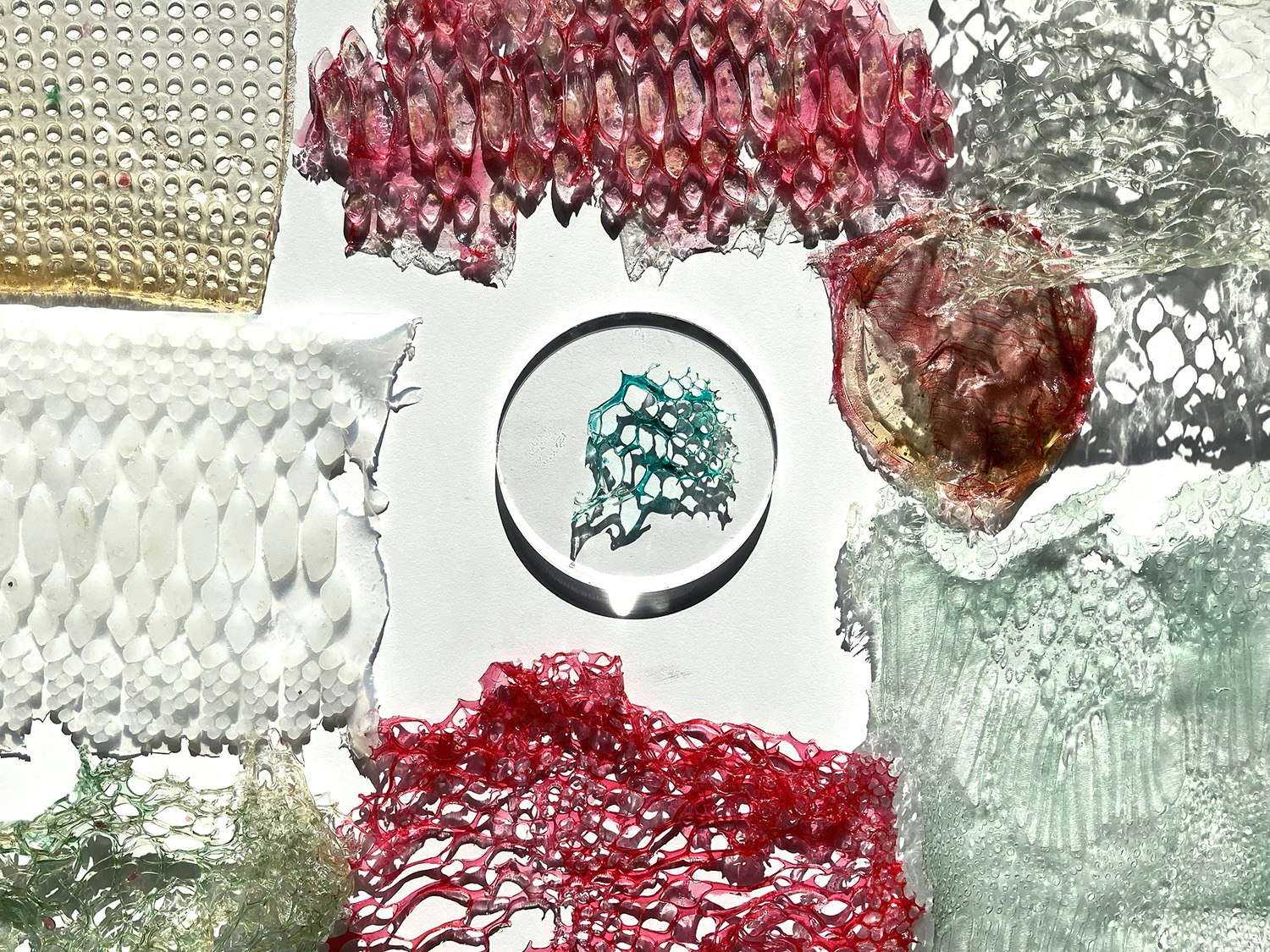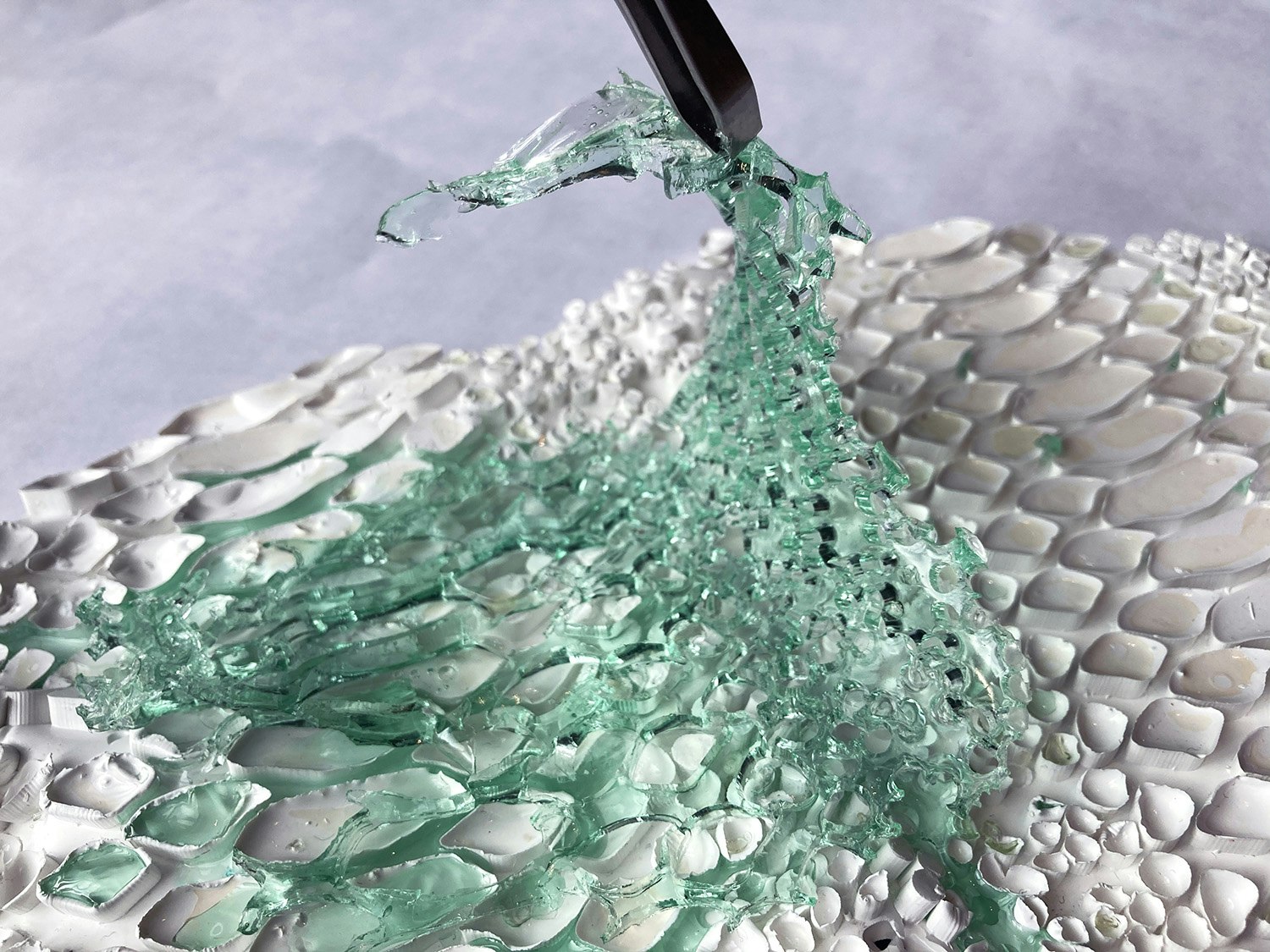 Attachments