"A New Routine- We Need to Draw from Distance to Understand" is a collaboration between two interdisciplinary artists respectively Ginna Alejandra Vélez Carrasco from Bogotá, Colombia and Noor us Sabah Saeed from Karachi, Pakistan. The interactive-performative exercises are designed to understand each other's new routines by a mutual concordance between an emitter and a receiver. Both artists allow each other to spend some time through Skype to understand: What is keeping them motivated, healthy and productive during self isolation in the current global pandemic? And which spaces in the house they spend most of their time?
These exercises attempt to explore new ways of communication from distance and deal with a personal and collective search of body exploration, looking for reflections with regard to human behaviours linked with a specific territory. The artists took this time as an opportunity to exchange ideas and to share means of enjoyment considering the context of each person, for instance, family heritage and folkways.
During the first interaction, Ginna was doing aerobics through Latinoamerican dance (funk carioca/brazilian funk, salsa, champeta and colombian cumbia) in her living area while taking care of her sick dog. Ginna is not a professional dancer, for her dance is a way to keep her active and her body in shape while spending most of her time at home. At the same time, Noor was drawing her and her space via Skype call.In the 2nd exercise, Ginna had the role of an observer and Noor allowed herself to be observed by Ginna on mutually agreed days. The day included making and having tea and cleaning the table while watching the live art event online. Due to the ban on public gatherings the exhibitions and art events are affected globally. However, the situation has created a space for the online screenings of the events, which make these events more accessible for the audiences with internet connectivity irrespective of their geographical location. During the last interaction, both artists were in their studios exchanging ideas.
This is a 2nd collaboration between both artists. Previously, they worked virtually for the Waja Foundation's project with a Laboratory of Performance titled, "Poéticas Corporales de Mujeres en Bogotá: Experiencias Artísticas en el Espacio Público" (Women's Body Poetics in Bogotá: Artistic Experiences in the Public Space). As a result of laboratory's designed activities and meetings, together they produced the video-performance titled "I need to draw from distance to understand / Your- my Reflection", from Bogotá to Karachi, presented in public spaces in the town of Bogotá, Colombia.
Previous related project:
https://gialeja.blogspot.com/2020/05/2018-i-need-to-draw-from-distance-to_26.html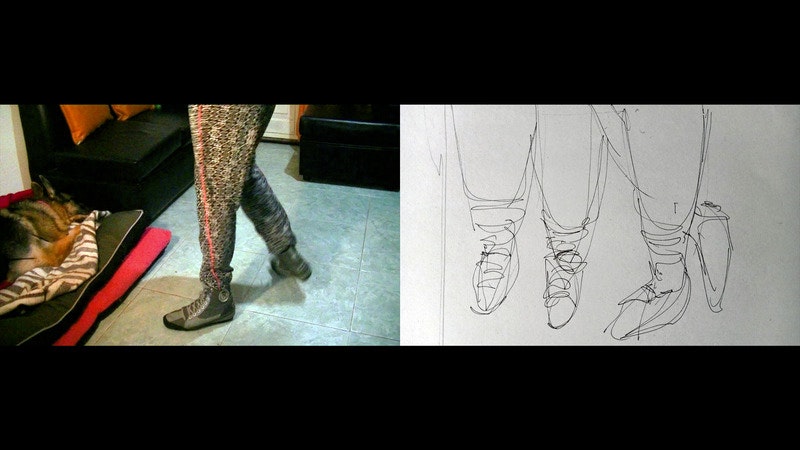 Attachments