Cyborg Bunker
ART/ DESIGN/ RESEARCH/ CREATION RESIDENCIES in BARCELONA
RESIDENCIES:
Residencies cost €200 per week and residents can stay for a minimum of one week and a maximum of 5 weeks.
The residency includes:
Accommodation - your own bedroom in the Cyborg Bunker.
Creation Space - 80sq meters of space for you to create or rehearse.
Opportunity to showcase your work in Barcelona. Your research or work can be presented as a talk, exhibition, concert or performance in Barcelona.
If requested you will have an assistant during your residency that will help and assist you during your stay as well as help you prepare your final showcase, event or exhibition.
Social exposure; if requested your project and work can be announced on our social media platforms as well as local media.
During your residency you'll have access to the following materials and instruments if needed: Grand piano, Wall Piano, Orchestral Drum, Projector, Electric Drum, Sound Table, Smoke Machine, Strombow Light, Theremin, Minimoog, 12 Metronomes, Phillip Color Lights, Full Electric Keyboard. ​
How to apply?
Send us an email at cyborgbunker@gmail.com and we'll arrange a Skype call with you so you can tell us about your project, how many weeks you'd like to stay and when you'd like to come. A second Skype call will be arranged if selected.
THE SPACE:
The Cyborg Bunker, owned by experimental cyborg artists Moon Ribas and Neil Harbisson, is a creative space located in the centre of Barcelona in the neighbourhood of Poble Sec. The space is divided into different zones:
The Lab: run by the Cyborg Foundation Labs - a lab that focuses on the creation of new senses and new organs.
The resident's bedroom: an individual bedroom for 1-5 week residents.
Common area: space used to create or rehearse, as well as to present, showcase or exhibit projects and works.
Kitchen/Bar: common kitchen for residents and lab members that becomes a bar during events and exhibitions.
Bathroom: the bathroom is located upstairs and is equipped with a shower.
Wifi: the whole space has strong wifi connection
---
---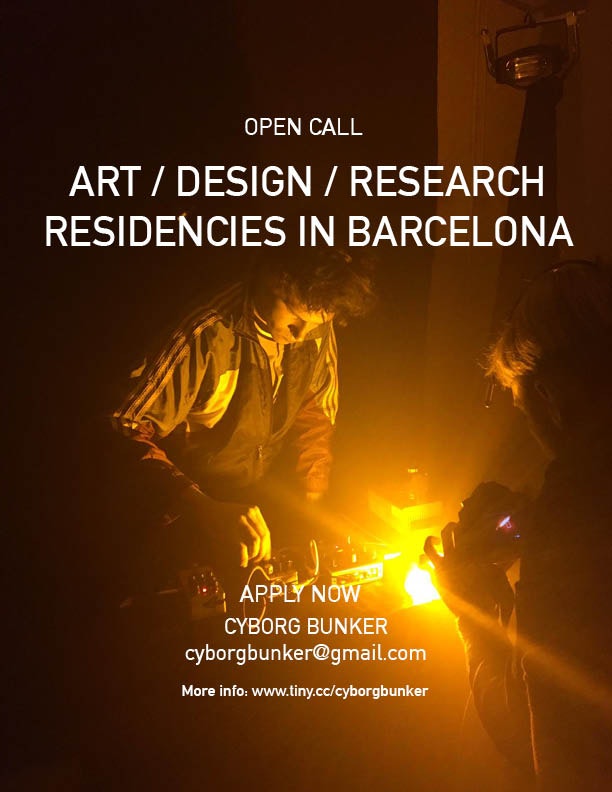 ---