When news broke of a partial lockdown in Austria on October 31 — less than two weeks before the start of Vienna Art Week 2020, "Living Rituals" — highlighting and supporting the city's art scene seemed all the more essential. For its part, Vienna Art Week was determined to push ahead with this year's program, resulting in its first-ever digital edition.
Considering art and cultural institutions and events have been among the hardest-hit by the lockdown, it seemed, momentarily at least, that Vienna Art Week would end up being another cancelled or postponed event this year. Although it was sure to be a challenge to migrate a large portion of the program to the digital format in such a short amount of time, for Vienna Art Week, there seemed to be no other way then to offer "a determined sign of life for art in the city". Aiming to bring some much-needed inspiration to the largely grey, dark mid-November days, the digital program gave audiences the chance to enjoy a bit of social interaction, art viewing, and even participatory engagement from the comfort of their homes. 
Initiating new, engaging digital formats has been a task, and struggle, for many art institutions and organizations trying to stay active during pandemic lockdowns over the last year. As a result, this year's Art Week rituals were certainly different. And while dressing and attending social events like openings and parties might not have been part of it, new routines became a central part of the Art Week experience.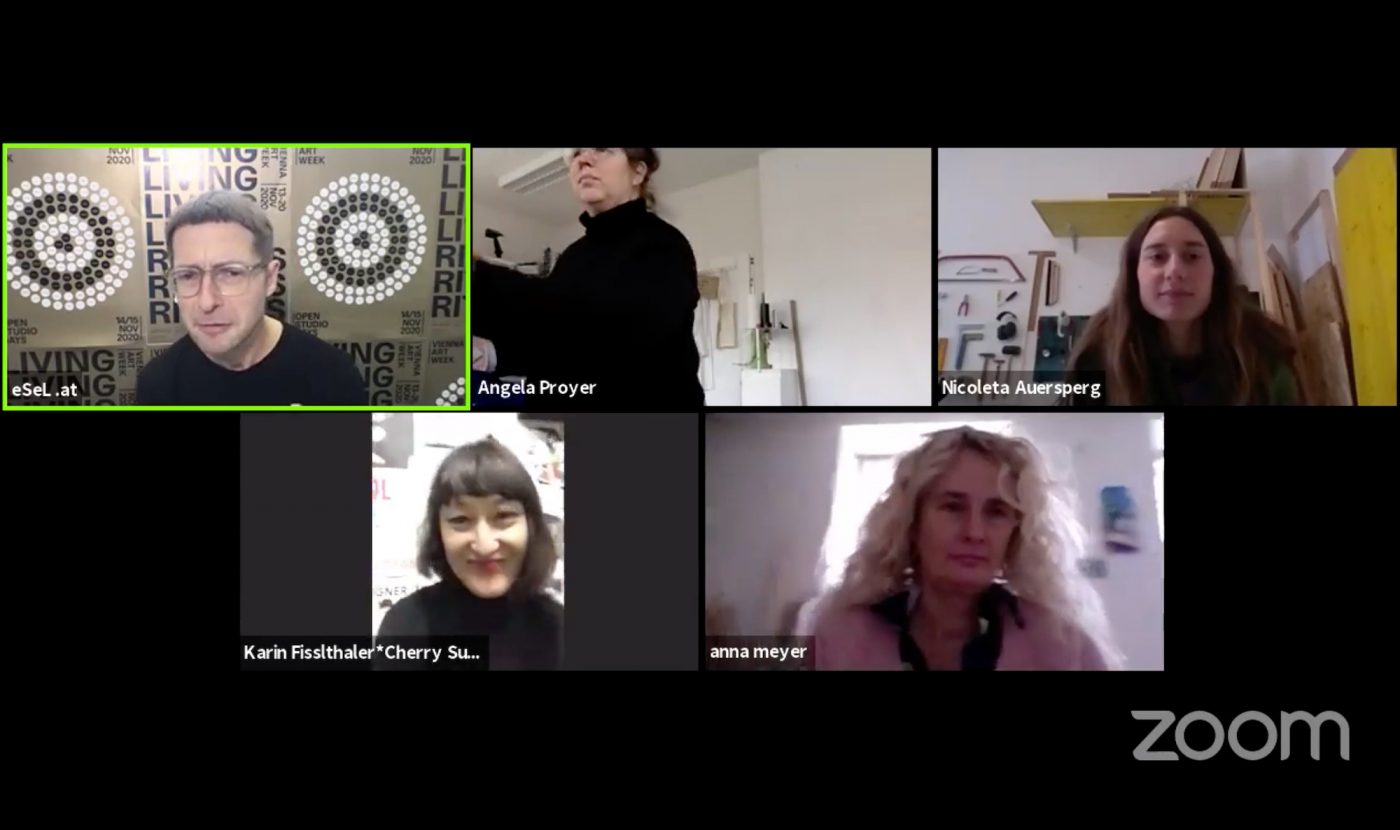 For Vienna Art Week, the Open Studio Days are seen as a central part of the program. Selected artists throughout the city open their doors, offering visitors a behind-the-scenes look at their artistic production and the chance to have a chat. The Open Studio Days also remained a component of this year's program — just in a different way. Alongside a larger program of studio tours and talks, Open Studio Days took the form of a ZOOM marathon during Art Week's opening weekend. 
Moderated by  Lorenz Seidler of eSeL art platform and guide, positioned against a backdrop of Vienna Art Week "Living Rituals" posters, the marathon took place via a series of 15-minute talks stretching over a 5-hour period on two days. Animatedly firing off questions and conversation topics to the artists, Seidler asked artists questions about their work, processes and their strategies for getting out of their everyday routines in order to find creative and productive possibilities. There were, of course, bound to be some minor technical issues along the way, standard for any video call — "I can't see you." "Can you hear me?" But these were taken in stride, as a part of the format and medium — having become so much a part of our digital routines and patterns of communication. 
View this post on Instagram
Because of the slew of virtual calls, meetings, and discussions many of us have been subjected to this year, there was a pervasive feeling of ZOOM fatigue that followed the news of the lockdown. Some artists expressed their desire for meeting in physical space rather than online — for example, over a cup of coffee or tea in the studio. But in the end, the digital open studios seemed to have been enjoyed by participants. As artist Haruko Maeda, who was initially unsure about doing a digital open studio visit, put it: "You have to change your way of thinking".
Still others had opted out of a virtual presentation, deciding to adapt to the lockdown restrictions in other, offline ways. At studio das weisse haus, artists Ryts Monet, Yoshinori Niwa and Yuji Oshima organized an exhibition, title "Pink", in their studio's window space — featuring framed photographs by Ryts Monet, a diptych titled "Ishinomaki 2013 (under the sun)" (2013), and Oshima, from his performance "A Letter from the Sky" (2012), as well as a neon work by Niwa, titled "Towards a Beautiful Country" (2017).
Installation, light, sound and video were displayed by ada – artistic dynamic association in their window exhibition, "ada is … Heiland", embedded in the building's red and yellow facade on two of its storeys — with work by Jürgen Bauer, Kerstin Bennier, Daniel Hosenberg, Anna Mitterer (featuring Aleksandra Cwen, Marcuse Hafner, among others) and Renfah. Readily accessible to passersby on the street, the window exhibition accompanied ada's digital Art Week event (which offered participants "situation-related online remote healing"). The impetus, it seems, to show art in physical spaces, has positioned window displays as an alternative yet parallel mode  to digital space — similarly mediated by screens.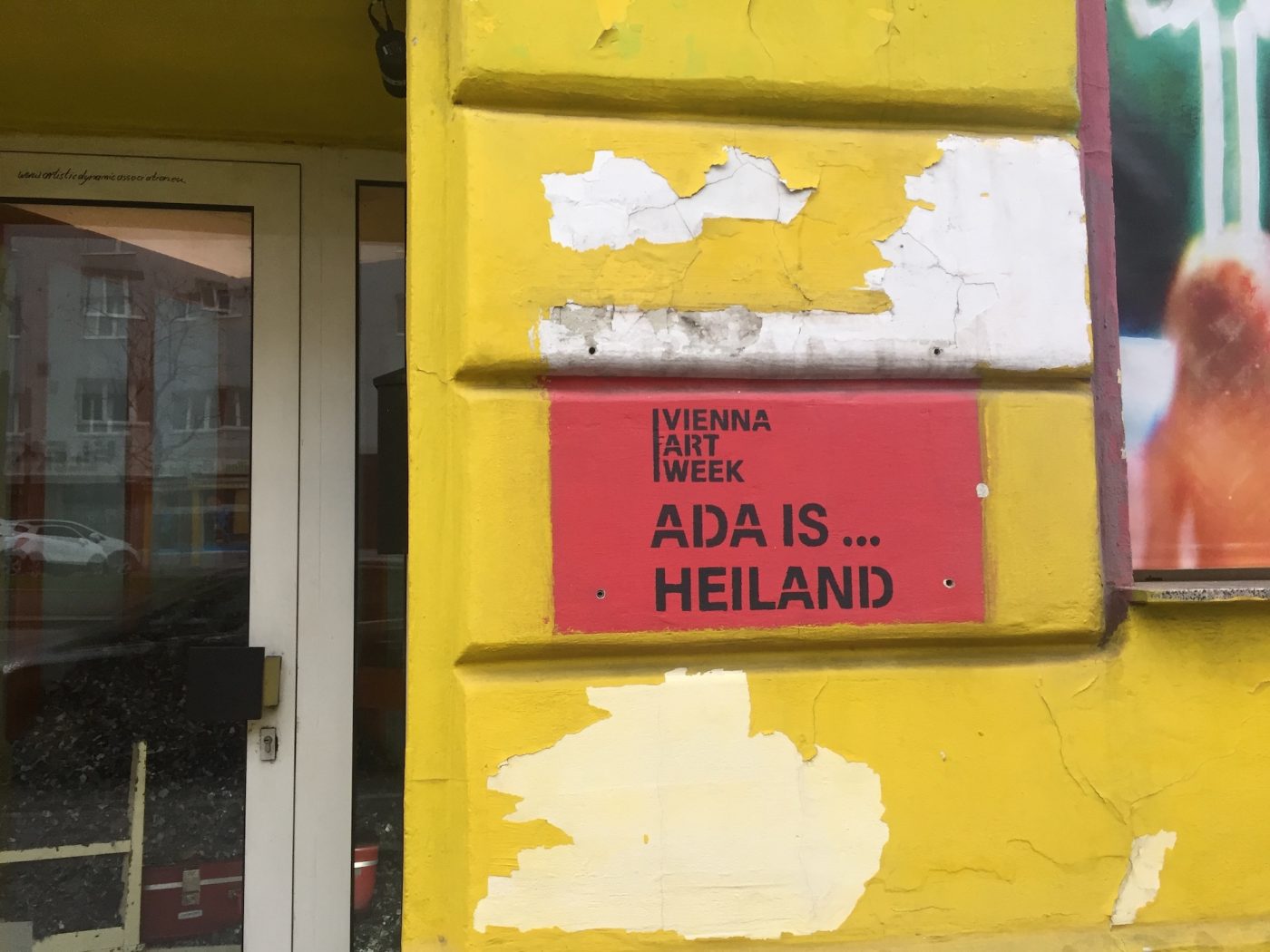 A cooperation between MAK (Museum of Applied Art) and University of Applied Arts Vienna, Creative Climate Care Pop-up Exhibition 4 offered a look at a video work by Martina Menegon, titled "When You Are Close To Me I Shiver" (2020). Alongside the video, a discussion between the artist and Annemarie Harant and Roman Mesicek, of Tonspur N podcast on sustainable development, was also made available to listeners. Menegon's live-simulation video presents a dystopian future in which the current climate and health crises have reached unsettling heights (literally). Digital clones of the artist's own body — she estimates a number in the thousands — drop, it seems, from the sky, continuously piling up on a beach. Aside from falling down and at times rolling over, many of the bodies appear motionless, corpse-like. The masses have gathered in this spot, as the last remaining space; there's nowhere else for them to go. 
Discussing the use of her own body, which has been 3D scanned and cloned in the video, Menegon emphasizes the relationship we have to our virtual bodies and identities. She describes the connection that she is creating with her virtual self in the work as one of its more positive aspects. "I realize how harsh it has been for so many people to be online so often. And I think it's going to be very important to create this relationship and to be aware of what it means to be online on a constant basis," she explains. Menegon goes on to stress the importance of connecting our physical selves to our virtual selves and understanding that they are not separate entities — especially as virtual and real life are becoming more and more entangled than ever. The moment Menegon cites as an impetus for exploring her virtual self — creating an avatar — was in ZOOM meetings, where she had grown tired of seeing her own face on screen and began to play with filters. 
View this post on Instagram
Of course, adapting to the current circumstances, and our more active digital lives, also inevitably becomes part of the discussion, thematized in works, events and talks. On the occasion of the initially scheduled exhibition of Roberta Lima's "Ghost Plant" at Stadtraum, a virtual opening was held on ZOOM where the artist Roberta Lima and curator Marcello Farabegoli were present, among others. The installation comprises a sculpture made of red cables, connecting to video works and other media — the cables materializing connectivity through processes both bodily and digital.
For Lima, like many others, the isolation brought on by contact restrictions was a source of struggle, which also prompted her to find ways of work and connecting using different modes —  alternative forms of communication and connectivity. As remote collaboration played an integral role in the making of "Ghost Plant", Lima said of the virtual opening: "I am not surprised that we end up showing this work also in this way". The artist and curator further discussed the decision to proceed with the installation of the exhibition, even though it would not immediately be able to open to the public. Just getting the work up in the space was important — highlighting the changing ways in which we work, and how we exhibit and experience art. 
View this post on Instagram
In a similar way, Vienna Art Week went ahead with installing their main thematic exhibition "House of Rituals", adapting it with the addition of a subheading: "an exhibition without an audience". The exhibition, which extends from the garden through all levels of an abandoned house — from the basement to the attic — was made available via a program of live-streamed events and a video tour with co-curator Robert Punkenhofer. The exhibition comprises works by Erwin Wurm, Marina Abramović, Vito Acconci, Elisabeth von Samsonow, Hanakam & Schuller, Emiko Kasahara, Oliver Hangl, Paul McCarthy and Iwajla Klinke, among others — embedded in the house's architectural structures.