This week we bring you residencies galore — including a newly established New York-based program — as well as calls for an online exhibition and performing arts festival. Explore these and more in our selection of international art opportunities.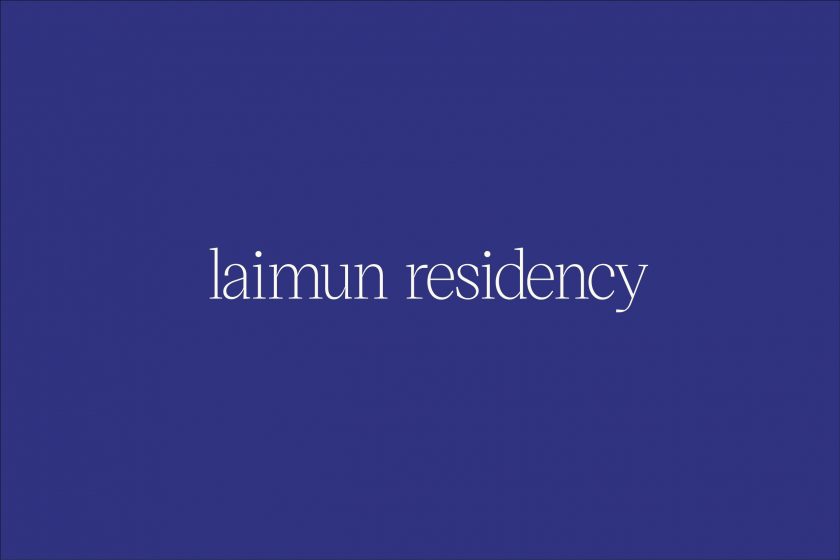 Laimun is an artist-in-residence program and curatorial project that intends to create conversations with local and international artists across various disciplines. The residency is a self-funded project and organized by the independent curator and editor Anya Jasbar, with the intent to support artists, writers, and designers who are looking to develop their practices and projects. The Berlin edition of the residency will take place from the 26th of November to the 5th of December 2020, hosting one resident for ten days in total. Laimun in Berlin offers free-of-charge accommodation and use of the studio. Laimun will also help the resident with finding research materials, creating connections with local organizations and artists, dedicating time to the analysis of the project, and the further development of it if needed.
Application fee: €10, 20, 30 – pay as you can – donation-based application fee. If you're experiencing financial difficulty and feel that the donation system excludes you, please get in touch with Laimun.
Deadline: Monday, November 2, 2020
Organizer: Laimun Residency
Open call for studio residency at amant ny
Amant Foundation launches a call for applications for its NY Residency Program, a newly established international studio residency program beginning in September of 2021, with three iterations—Fall, Winter, and Spring. The residency hosts artists at all stages of their careers and across a wide array of disciplines from the visual arts, literature, performance, filmmaking, and cultural theory. In addition to an independent studio space and access to facilities, the residency covers round-trip economy flights and airport transfers to NY, a monthly stipend of $3,000 to offset the costs of accommodation, transport, day-to-day living expenses and a grant to carry out projects. Please be advised the Amant studios are not residential.
Application fee: None
Deadline: Friday, December 18, 2020, 00:00 (EST)
Organizer: Amant Foundation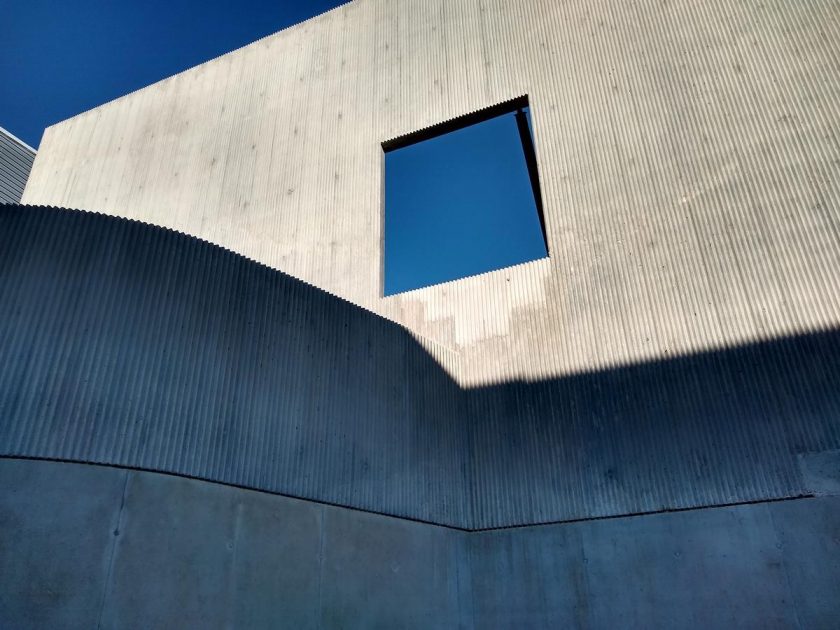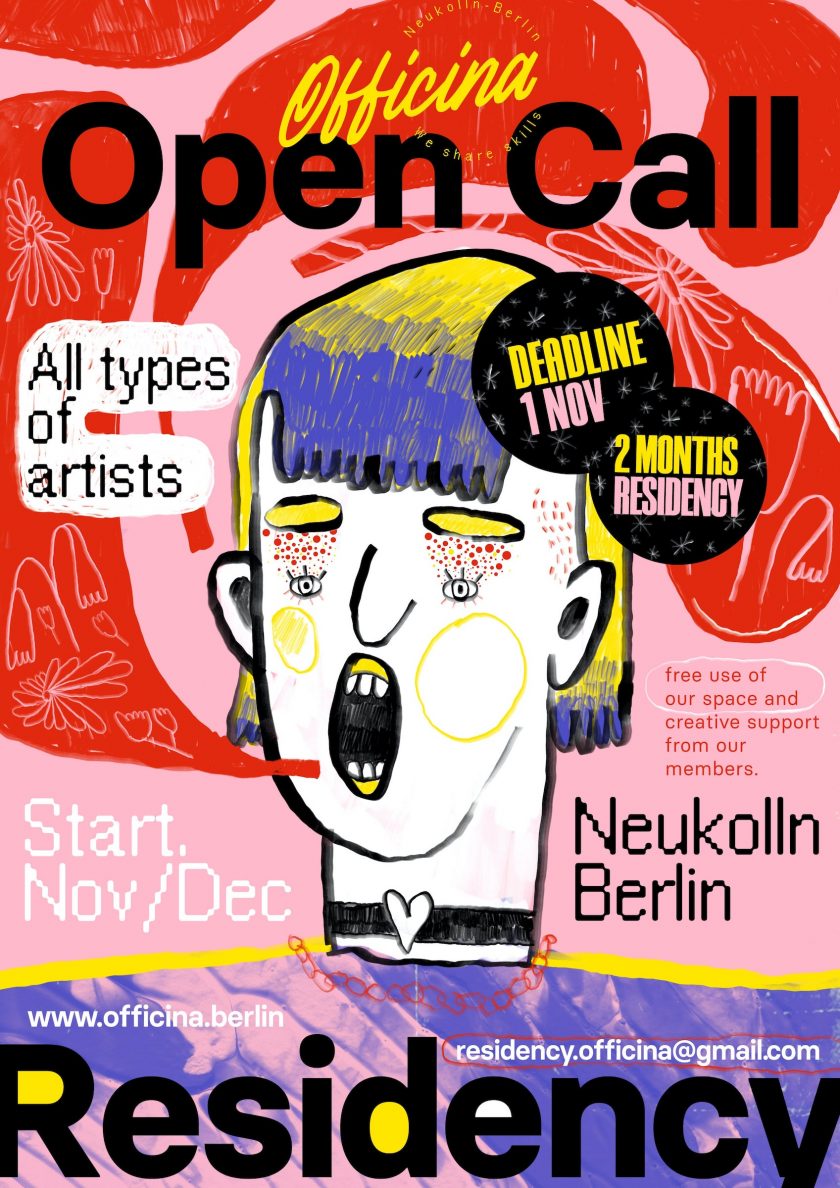 OFFICINA NEUKÖLLN is inviting artists to join the community for 2 months starting starting in November/December! You will receive free use of the workspace and creative support from members. All types of artists are welcome to apply, although OFFICINA NEUKÖLLN is particularly interested in artists working with analogue printing techniques who wish to aid in developing their small print studio. OFFICINA NEUKÖLLN is a contemporary production, performance and exhibition workshop that fosters long-term collaboration between diverse practitioners and multiple forms of exchange. It is an artist run multi-disciplinary project space focusing on collective creative practices. You will be invited to give a workshop or a presentation of your work and OFFICINA NEUKÖLLN will organize an event to exhibit the final results of your residency.
Application fee: None
Deadline: Sunday, November 1, 2020
Organizer: OFFICINA NEUKÖLLN
Green belt: food sovereignty/ cinturón verde: soberanía alimentaria
Faced with the certainty of being in a time of inhospitable transits through thresholds of uncertainty and transmutation, and with the conviction that today more than ever we need to approach affectively and politically to overcome the contradictions to which the COVID-19 has pushed us, the centers of operations La Pan and Caput have partnered to open a call for visual or audiovisual projects online throughout 2020. Send a proposal for work in progress or finished, involving a contingent and critical body of work through a contemporary language. All media accepted. The online exhibition will focus on topics including ecological policies, anthropocene, food, agriculture, entropy, micropolitics, etc.
Application fee: None
Deadline: Saturday, October 31, 2020
Organizer: La Pan & Caput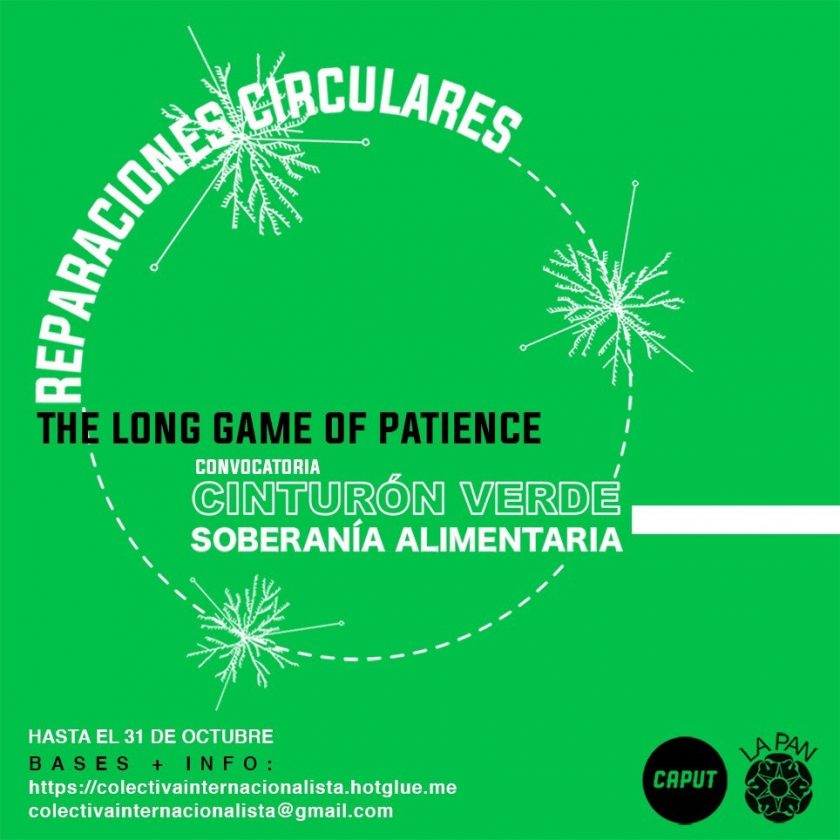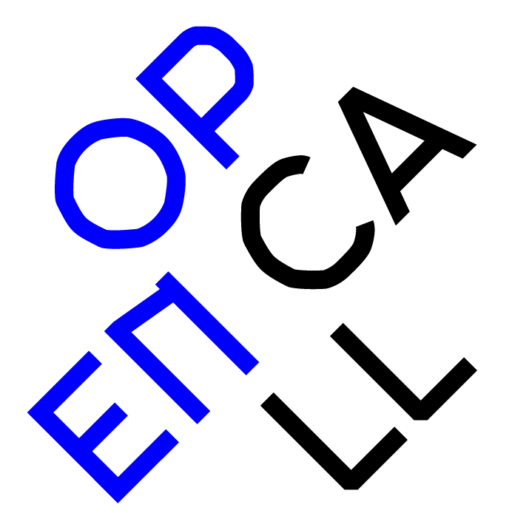 Transeuropa Festival Open Call
transeuropa, a European Festival for Performing Arts based in Hildesheim, Germany, will take place from May 25th – 30th 2021, celebrating its tenth anniversary. Transeuropa is looking for six guest-performances considering the scope of performing arts. Works which align with related art forms or have a transdisciplinary approach are also welcome to be submitted. Under the title ENTER THE COLLECTIVE VISION, the 2021 festival will reflect on collectivity, solidarity and different drafts of the future. Due to the effects of Covid-19 regulations, the festival is keen for art that takes place digitally or works decentralized, without the need to travel or physical presence of artists and audience. But depending on the situation in May 2021, the festival's structure will also be transformed as much as required in order to make an on-site festival in Hildesheim possible.
The festival can offer you:
• Salary
• If necessary: travel expenses*
• If necessary: accommodation during the festival*
• If necessary: food during the festival*
* In case the pandemic and its impacts allow traveling and physical presence.
Application fee: None
Deadline: Friday, October 30, 2020
Organizer: transeuropa 
Keep up with the art world
Sign up to ArtConnect's newsletter