For our latest open call, 'Passion', we partnered with Wedio — sharing community for filmmakers and photographers — to offer one winner and one runner up working in photography or video the chance to receive equipment rental from Wedio (worth 200 Euro and 100 Euro, respectively), and in-depth features in our magazine and in Wedio's blog. The results are in, and we are pleased to announce the winner!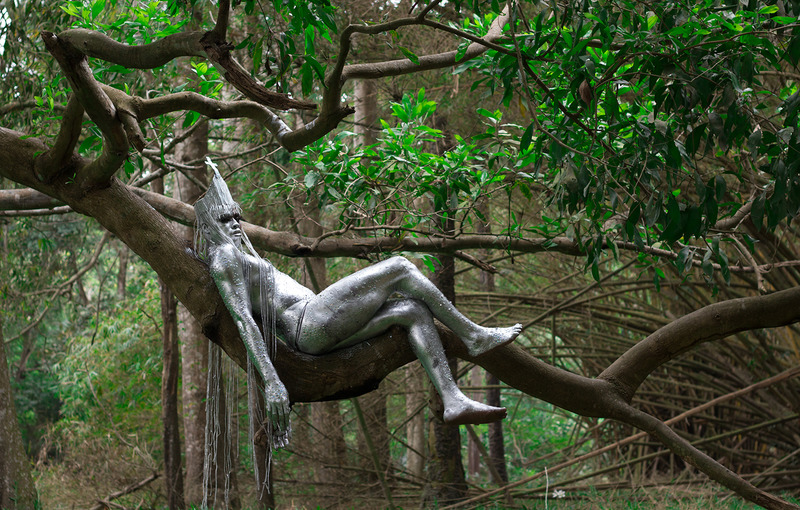 With the project "The Queens of Babi"
Artist statement: I shot Kesse Ane Assande Elvis Presley, or simply coined as "Britney Spears" by her friends, along with Mohamed, aka "Baba" for a new personal series entitled "The Queens of Babi".
The series was created after meeting and talking with the members of Abidjan's drag community, and discussing how to highlight their talent and creative passions. For a duration of two years, until 2018, members of the drag community in Abidjan would meet discreetly in an undisclosed bar to attend drag themed events, where they would parade and show off their finest creations to each other and members of a jury. A winner would be picked at the end of each event. The group has now disbanded due to adversities, but their desires to create and self-express remain.
I chose to highlight the only two winners of these competitions, as after talking to them, their personalities just stood out to me. What came out of this were outfits that were made, fittingly, under the theme of royalty. All creations were imagined by themselves and crafted from scratch, which was amazing to watch as I received their photo and video updates. Both have ambitions that reach beyond drag. Britney wants to be a model and an actress, be an international drag queen, have her own life and freedom to do what she wants, and most importantly, be proud of the life she leads. Baba would like to own a fashion company, start a family and work in the entertainment industry. Regular desires, that would normally be attainable to any person whose gender and identity would be deemed "acceptable" to carry these out within society's confines. Both are also aware of the difficulties of work such as this in Côte d'Ivoire — from the costs, to finding a tailor who would agree to work on their outfits, and premises that would host without fear of backlash. All these remarks sadly point to the elephant in the room: The culture of drag and LGBTQ+ identity is still not as readily accepted within the confines of modern African society.
About the artist
Ngadi Smart is a Sierra Leonean visual artist based between Côte d'Ivoire and London. She works in the mediums of photography, illustration and collage. The themes in her work fluctuate between female and male power dynamics, to feminism, to female sexuality and are often also fashion and pop culture inspired. Her aim is to show as many representations of African people, and the complexities of what it means to be African, as she can.
Runner Up: Jenny Rafalson
With the project "Forbidden Fruit"
Artist statement: Growing up as an immigrant from the former USSR in Israel, I had to adjust myself to be a part of the Israeli society. I had to give up my home culture and identity almost completely for the Israeli one. After moving to the US to study in Grad school, the physical and the emotional distance from home allowed me to look at home and at myself in a different way. It made me look at the identity that I fought so hard to acquire without acknowledging what it truly meant to be Israeli. What it means to be a Sabra.
The video included in the show is a love letter to a relationship that is important in my life, but that, at the same time, didn't work the way I thought it would. I filmed it in different places that simulated this relationship for me.
'Sabra' is a Hebrew word with Arabic origins, and is used to refer to a Jewish person born in Israel. However, the Sabra cactus, or the 'Prickly Pear' in English, is not a native plant in Israel and was transplanted from the Americas in the 16th century by the Spanish. It is ironic that both Israelis and Palestinians see the Sabra as a national symbol of ancient roots and connection to the land. Growing up with the Sabra myth, I knew enough to change my identity to adapt to its features, but not enough to understand the depth of the history behind it. In the current project I question my belonging to the culture and the place.
I created a utopian (a non-space) space, and a safe space in my studio by using landscape images that I photographed over the last two years. I was looking for a simulation of a place I call home in Arizona, Indiana, Chicago and Israel. I re-photographed the landscape of Israel in Chicago with light reflected from the buildings in front of my studio. I am using the metaphor of the mirror to express/depict the dialectical concepts of space and non-space that I exist in as an immigrant. My yearning for home, and at the same time, my reluctance and lack of ability to visit home, has taken me on a quest for the Sabra, for a simulation of home and of my identity. Maybe even for a new identity.
About the artist
Jenny Rafalson (b. 1986, Russia, grew up in Israel) is a multidisciplinary artist, living and working in Chicago. She received her MFA from the School of the Art Institute of Chicago (2020). She graduated from the Hadassah College Bachelor program for Photography and Communications (2013). She is the recipient of the James Weinstein Memorial Fellowship for 2019-2020.
Rafalson works in photography and video. In her work, she explores questions of immigration, belonging, and hierarchy in contemporary societies. She works around post-colonization, culture myth and hierarchical structures of power and culture and control represented by plants in different contemporary cultures. Through it, she attempts to talk about her failed yearning for belonging as an immigrant from the USSR.