From funded residencies to awards and exhibition opportunities, we've compiled a list of open calls to apply to in December. Make sure to pay close attention to the deadlines!
M HKA / Van Abbemuseum Research Fellowship
Deadline: December 6, 2020
Application fee:  None
Organizer: M HKA – Museum of Contemporary Art Antwerp and Van Abbemuseum, Eindhoven
Museum of Contemporary Art Antwerp and Van Abbemuseum, Eindhoven are calling for speculative research project proposals, engaging critically with areas such as internationalism, transnationalism, and globalization, focusing on microhistories, transhistorical approaches and more. The resulting research (whether artistic project or curatorial proposal) will be presented within the frame of exhibitions at M HKA and Van Abbemuseum in 2021: Rewinding Internationalism: The 1990s and Today (Van Abbemuseum) and Eurasia: A Landscape of Mutability (M HKA). The fellowship covers a period of up to 12 months, providing a €10.000 research fee and a maximum production budget of €5.000. If desired, researchers may work with the archives, collection and networks of the museums, and will be granted access in order to do so.  
Who it's for
This call is geared towards artists, curators, writers, thinkers, etc. — anyone with research interests in the specified areas. Though the fellowship program does not include a residency or additional travel stipend, it does offer flexibility in terms of working from a distance, or remotely, in case of Covid-19 restrictions or inability to travel.  
Why we like it
This program offers a research grant and the chance to present your work in not one, but two institutions. But it's also more than that: the fellowship is part of L'Internationale project — a partnership of seven modern and contemporary art institutions whose focus is to create a space for art and exchange that's decentralized, non-hierarchical and international. 
View this post on Instagram
Collide Residency Award
Deadline: December 7, 2020
Application fee: None
Organizer: Arts at Cern
Collide is a research-led residency unfolding across two locations: CERN, Geneva, and Hangar, Centre for Art Research and Production in Barcelona, as well as various laboratories and research centers throughout the city. This is a fully funded residency opportunity for an artist or collective.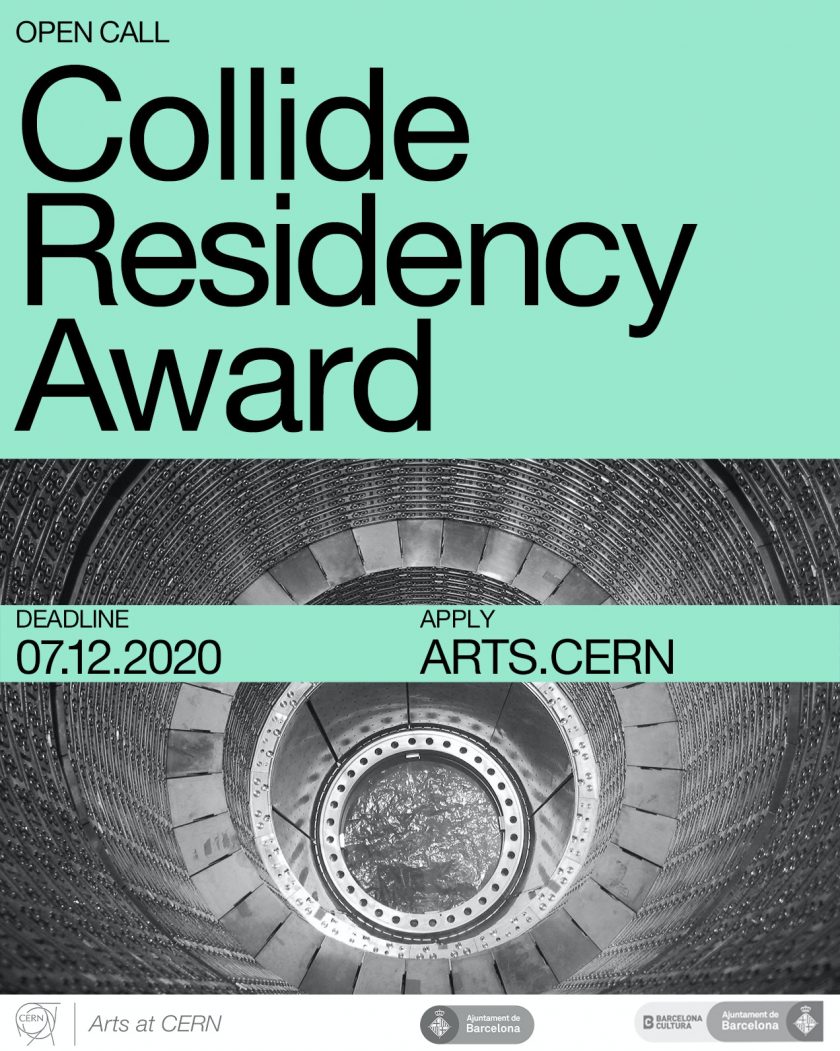 Residents are invited to spend two months at CERN, Geneva and one month in Barcelona in 2021. The periods of stay in Geneva and Barcelona don't necessarily have to be consecutive, and the exact timing will be defined once participation is confirmed. Artists will receive a grant of 15000 Swiss Francs for research and artistic production, as well as a stipend to cover living expenses for the months spent in Geneva and Barcelona. Collide also covers travel costs and accommodation (within a fixed budget) for the total program duration of three months. 
Who it's for
This call is open to artists over 18 years old, of any nationality working across all creative disciplines. If you have a particular interest in science and exploring trans-disciplinary approaches, then this one's for you. 
Why we like it
The potential to develop innovative correspondences between art and science, plus the chance to spend time researching in the largest particle physics laboratory in the world, as well as the community-driven Hangar Centre for Art Research and Production. 
Curatorial Grant – Künstlerhaus Lukas
Deadline: December 10, 2020
Application fee:  None
Organizer: Künstlerhaus Lukas
One of the oldest artist houses in Germany, Künstlerhaus Lukas organizes a number of annual residencies and grants at its Ahrenshoop location. This curatorial grant, in cooperation with Neue Kunsthaus and the National Park "Vorpommersche Boddenlandschaft e.V., provides support and space to realize an exhibition and corresponding public program on the topic of art and sustainability. The grant is particularly aimed towards projects that engage actors both within and beyond the arts — in areas including politics, economics, etc. — to address essential questions and work together towards potential solutions. The grant recipient will be invited for a two-month work-stay (May-June 2021) at Künstlerhaus Lukas, and the resulting exhibition will be on view at Neue Kunsthaus and its outside space from June 6th to August 30th. The work-stay is included in the grant, as well as a €1000 scholarship from Künstlerhaus Lukas; a €1000 project fee from the Neues Kunsthaus; a project budget of up to € 4000; plus an additional amount of up to € 800 for the curation of the outside space.
Who it's for
Curators or curating artists with an interest in topics concerning sustainability and the environment, who are looking to reflect on shared responsibility, accountability and possible solutions within the frame of an exhibition. The ability to commit to a two-month work-stay is also essential. 
Why we like it
The topic of sustainability is an increasingly urgent one, and providing support for practitioners and projects that build on current discourse and move towards practical solutions and engagement from the art community and beyond seems pretty important to us.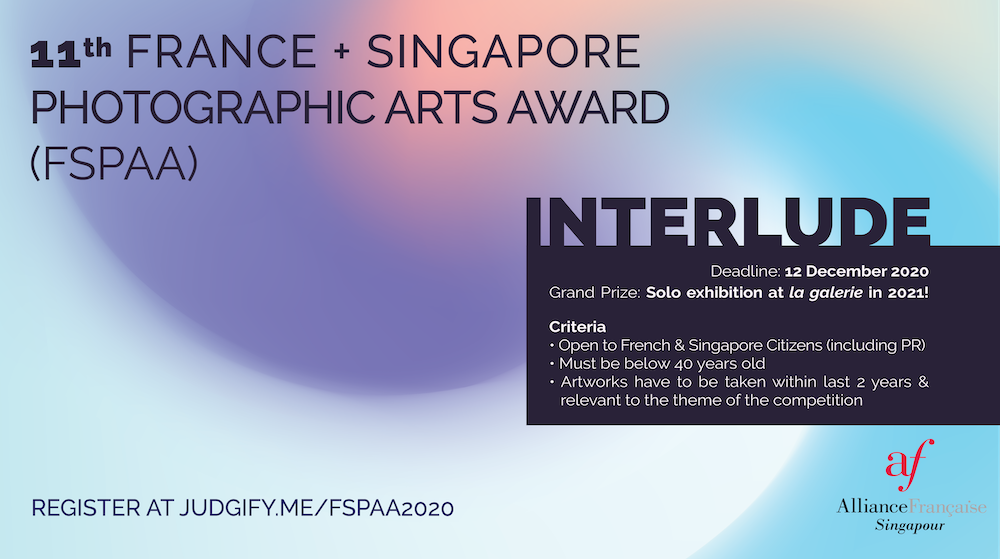 11th France + Singapore Photographic Arts Award (FSPAA)
Deadline: December 12,  2020
Application fee:  None
Organizer: Alliance Française De Singapour
French and Singaporean photographers are invited to submit their works to the 11th France + Singapore Photographic Arts Award (FSPAA) on this year's theme: "Interlude". The theme — describing a liminal space of respite — springs from a phenomenon many of us have experienced this year as a result of the pandemic, which has required us in many cases to adapt to new routines, rethink the way we do things and our conception of what "normalcy" looks like. Artists are asked to submit three to six photographs relating to this theme, from which the jury will select 10 proposals to present three photographs each in a group exhibition at la galerie — the gallery of Alliance Française in Singapore — from 27th Jan – 13th Feb 2021. The grand prize is a solo exhibition at la galerie in 2021. Alliance Française covers the costs and logistics of exhibiting the work. 
Who it's for
Artists under 40 years of age who are citizens of France or Singapore are invited to apply. It's particularly a good fit for those with an interest in exploring experimental approaches in photographic art.  
Why we like it
This one offers an exhibition opportunity for multiple artists. Plus, the jury consists of industry professionals from Singapore International Photography Festival (SIPF); Singapore-based institution for photographic arts, DECK; Objectifs, center for photography and film; and more.  
SSW x Counterflows Caregivers Residency
Deadline: December 14, 2020, 12 noon (GMT)
Application fee:  None
Organizer: SSW and Counterflows
Scottish Sculpture Workshop (SSW) and Glasgow-based music festival Counterflows have partnered to create this residency program to offer time, funding, flexibility, resources and space to an artist who identifies as a caregiver. In these especially challenging times, in terms of both health and financial support, this residency is intended to provide space for respite, self-care, continued learning and development. In order to best support the needs of the selected artist, SSW will work with them to define the structure of the residency: whether that means adjusting the period of stay or spreading it over a series of shorter visits, or providing support for a remote residency. In addition to receiving private accommodation and access to studio facilities, workshops and support, the selected artist will receive an artist fee (£1500), travel budget (£300), materials budget (£300), and a budget to support care costs necessary to facilitate the artist's participation (£1000). 
Who it's for
Artists based in Scotland who undertake essential care work and are looking for a flexible residency structure. Some experience making experimental sound or performance-based work is also necessary. 
Why we like it
It can be especially difficult for artists with care responsibilities to find time to focus on their practice, let alone participate in a residency program to further develop their career. We appreciate that the SSW x Counterflows Caregivers residency not only takes this into account, but makes it the focus.
View this post on Instagram
Artist in Residence Munich: Art, the City, and Democracy
Deadline: December 15, 2020
Application fee: None
Organizer: Artist in Residence Munich
The artist residency program of the City of Munich offers international artists time and space at Villa Waldberta in Feldafing, Bavaria from May through July. One resident artist will be given the opportunity to network within the local art scene and exchange with the community, and can work freely on developing their ideas and projects on the theme "Art, the City, and Democracy". Towards this end, the residency reimburses travel costs to Munich, an individual rent-free apartment, a monthly grant of €1,2000, a monthly ticket for public transportation, a studio and exhibition space. In addition, public programming opportunities and organized meetings and excursions will be facilitated.  
Who it's for
This call is open to artists working in all disciplines, as well as scientists from art-related fields, who are based outside of the State of Bavaria. If you're interested in living and working in an impressive early 20th-century villa overlooking a lake and expansive park grounds, then this might be the residency for you. 
Why we like it
The application process is fairly straightforward — no in-depth proposal is required, only an artist statement addressing the theme. What's more, the program offers artists three essential things: space, time, and financial support. And some nice scenery to top things off. 
Studio Residency at Amant NY
Deadline: December 18, 2020
Application fee: None
Organizer: Amant Foundation
This open call is for a newly established international studio residency program in Brooklyn, New York.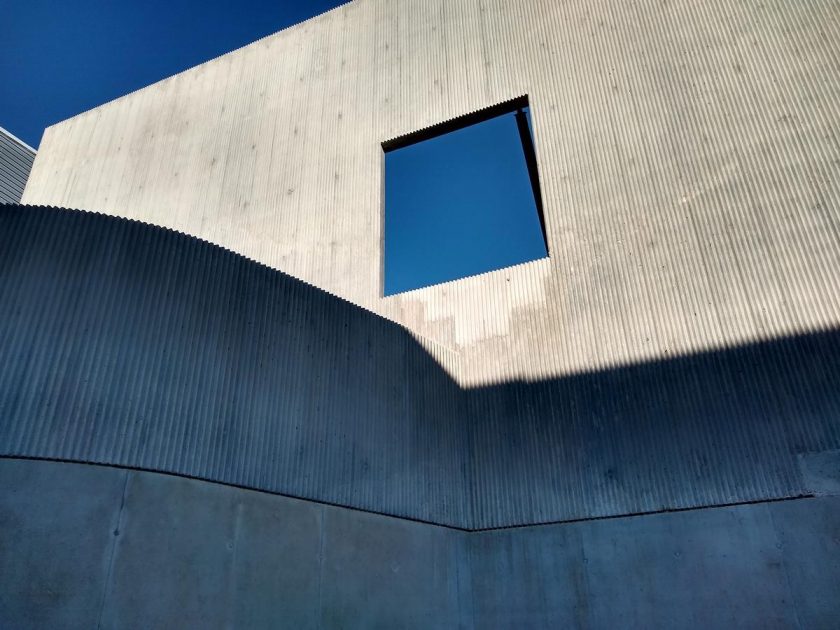 Initiated by the Amant Foundation, the residency is available for three two-month periods a year — corresponding to the fall, winter, and spring seasons — starting in September 2021. As the name of the program may suggest, the residency provides studios only and not accommodation. However, a $3,000 monthly stipend is provided by the foundation to off-set these costs and additional living expenses. Artists are provided independent studio space in the East Williamsburg neighborhood of Brooklyn. What's more, the residency also provides a round-trip economy-class air ticket to NY, including airport transfers, access to facilities and support, as well as public space for programming.
Who it's for
Both emerging and more established artists from different fields with a transdisciplinary approach are welcome to participate. The residency is only for those based outside of New York. If that's you, this could be a great way to get to know the New York art scene. 
Why we like it
This self-led residency offers the time and resources to get deep into that research project you've been thinking about, or to start experimenting. But in case communal exchange and collectivity are more your speed, this program offers a little bit of both.
Fotofestiwal Open Program
Deadline: December 20, 2020, 11:59 PM
Application fee:  None
Organizer: Fotofestiwal
Fotofestiwal — International Festival of Photography in Łódź (Poland) — will celebrate its 20th anniversary in 2021. Artists are invited to participate via this call for submissions, from which six artists will be selected by the jury to be part of a curated exhibition during the festival — to be held from 10th to 27th of June 2021. For their participation, selected artists are offered accommodation during the opening weekend, an artist fee (€400), reimbursement of travel costs (up to € 200), and a production budget (€450).
Who it's for
If you're a photographer or work with photography in your practice, this could be a great opportunity to have your work seen by an international audience. 
Why we like it
Fotofestiwal is collectively organized and seeks to implement new, more democratic institutional management structures, having also initiated formats that place artists and curators on equal ground. Moreover, they pay artist fees.
View this post on Instagram
Glass, Meet the Future – Film Festival 2021
Deadline: December 22, 2020
Application fee: None
Organizer: North Lands Creative
The second Glass, Meet the Future Film Festival is taking place in 2021 — both online and at the Toyama Glass Art Museum in Japan. Scotland-based glass art studio and gallery North Lands Creative is calling for submissions of short films incorporating the medium of glass, including documentary-style films about the medium, to be presented in the festival. Submitted films may be extremely short (a few seconds) and up to a maximum of 15 minutes long.
Who it's for
This one's for female glass artists/filmmakers who incorporate both media in some way in their work. This specialized focus could especially appeal to those who have created short films that fall somewhere between the two — for example, projects exploring the medium of glass, its processes and materials, through film.
Why we like it
A specific focus on the exploration of correspondences between glass and film makes space for experimental approaches and hybrid forms — we'd like to see that! 
+359 Gallery International Resident Program
Deadline: December 31, 2020
Application fee: None
Organizer: +359 Gallery
Located in a preserved water tower in Sofia, Bulgaria, +359 Gallery invites a visual artist to create a site-specific project in the space, while spending a period of two weeks to one month (June-July 2021) in Sofia. +359 Gallery provides accommodation and a separate studio, covers travel and production expenses, and offers curatorial, technical, and communication support for the event. The artist is asked to donate a work to the gallery's collection. 
Who it's for
Artists with an interest in architecture and creating site-specific work for unique spaces are likely to be drawn to this one. The duration of the residency also ranges from two weeks to one month, depending on the artist's practice — which may be helpful for those who are not able to spend long periods away.  
Why we like it
It's always interesting when residencies take place in unusual spaces, not only offering artists a chance to get out of their everyday routines, but perhaps to work outside of standard modes of presentation, as well. 
The New Fellowship
Deadline: January 6, 2021 11:59 pm (CET)
Application fee:  None
Organizer:  The New New
The New New is a newly launched program by the Bertelsmann Stiftung's Ethics of Algorithms project and Superrr Lab. The focus of the project and the fellowship is to explore digital futures — specifically, from a societal perspective. This means, working towards inclusion, justice, intersectionality in digital technology. Towards this goal, six New Fellows will each be awarded a six-month stipend of €6,000 for the first funding round in 2021. Fellows will be able to use this money as they see fit; they are given the freedom they need to work on and further develop their ideas and projects. In addition, fellows receive tailored coaching and mentoring, visibility for their project, and potentially travel (Covid-19 permitting). Supported projects may include artworks, stories, concepts and tools that are rooted in collaboration and address equity and justice in the context of digital life.
Who it's for
To apply, you must be a resident of a Council of Europe member state. The fellowship also seeks to support projects by those who are less likely to receive funding otherwise, for example due to reasons of race, gender, disability, class — those who are underrepresented in tech. And, if you already have a project in mind, even one that you are already working on, this could be the perfect opportunity to develop it further.
Why we like it
Digital technology plays an increasingly central role in our day-to-day realities — as has been particularly emphasized during the pandemic. Considering this, discussing the social values around tech and digital life and how to move forward in collaborative, inclusive and equitable ways seems all the more urgent. Plus, this program offers a more flexible, less bureaucratic approach for fellowship recipients.
View this post on Instagram
University of Colorado Art Museum – Artist-in-Residence Program
Deadline: January 7, 2021 
Application fee:  None
Organizer:  CU Boulder
The University of Colorado Boulder Art Museum is calling for artist(s)-in-residence during the 2021/2022 academic year. Over a period of four to six-weeks — either onsite or remote, depending on the Covid-19 situation — artists are invited to create new work or curate an exhibition for a 4,000 square foot gallery. As long as the situation permits, the on-site residency will unfold in one of two ways: during the fall semester 2021 the artist will complete an exhibition or installation for a spring 2022 opening; or, the artist can use the gallery as an experimental laboratory and production space during the spring semester 2022, where the process of the installation's creation will be made open to the public. To support the artist during the residency, the program provides a $16,000 payment and up to $2,500 to cover material and production costs, as well as additional support for the installation/exhibition. The program does not provide additional funds for travel, accommodation and other living expenses. If the residency must be carried out remotely due to Covid-19, the $16,000 payment will be reduced to $10,500 in order to account for the lack of these costs. Artists are expected to work with CU Boulder faculty and students from at least two courses — whether in creating artwork or additional programming such as a workshop.
Who it's for
Artists who are interested in pursuing interdisciplinary approaches will be particularly well-suited to this program — no matter which area they work in, e.g., dance, design, music, writing or visual art. CU Boulder also considers community engagement to be a core part of the residency program, placing a particular emphasis on underrepresented communities. Keep in mind that at least part of the residency will be coordinated remotely — for initial planning and communication. And artists should be interested in proposing projects that are able to adapt to remote methods in case of further restrictions due to Covid-19.
Why we like it
Artists are not only provided with space to produce an exhibition, but the resources and support to carry it out — the importance of the latter can't be overstated.