Multidisciplinary artist Laura Besancon was one of the three winners in our open call Alone, Together. Her work revolves around notions of play, connectivity, and place explored through various communication tools.
In Laura Besançon's winning video 'Alone, Together,' selected by Studio Uncoated, residents in a London tower block form union as they all play with the light in their flats at the same time, to the same song. You can see the hypnotic video further down. 
The artist has a Bachelor's (Honours) degree in Communications with Psychology from the University of Malta, and between 2017-2019 she pursued an MA Photography degree at the Royal College of Art in London, where she developed a multidisciplinary practice. She was a finalist for the 2019 MTV Re:define Award and recently, the 2020 Aesthetica Art Prize, and a winner of our own competition Alone, Together. 
Congrats! How did it feel when you got the email saying that you were one of our three winners for the open call?
Lovely news – Thank you! It has been a bit of a difficult time for the arts. My piece was part of the 2020 Aesthetica Art Prize exhibition at York Art Gallery – which had to close due to the situation. Therefore, this was a great opportunity to share it with a wider audience.
What were your reflections around the theme of Alone, Together? 
The words "Alone, Together" has been in my head for a while. When they first came into my mind, I was living in central London and thought a lot about the physical proximity between people in the city. How cities are heavily populated, but how everyone seems to be alone. 
"Alone, Together" in 2020 is more of an enforced physical separation. But now we follow this method to be together again. In this context, I can see my work as an example of how individual actions affect the collective outcome.
In your winning project, fittingly named, Alone, Together a whole building participated, how did you go about organizing this? 
I sent letters inviting residents to listen to a particular song at the same time and to play with their lights to the beat of the music, improvising in any way they wish. I would post them two nights before the event, in the letterboxes, or slip them under the doors; a lot of stairs or stops on the elevator! 
I received a couple of emails after that and had a few conversations going with some residents. With this specific tower-block (Landmark Heights, London), around 14 people participated.
In total, I have sent letters to about 15 different tower-blocks around London, all with a different outcome.
The video beautifully showcases how human connection can exist even when we're alone in our flat. What inspired you to explore this theme?
I was thinking about a mental/emotional level of connection, one achieved through a collaborative, artistic process. In this work, I felt a sense of vulnerability, and openness to the response of others.
There is a sense of acknowledgment about being together in our aloneness, which forms a kind of totality of togetherness. I also think about whether the following days, residents might meet, say – in the lift, and initiate a conversation about it.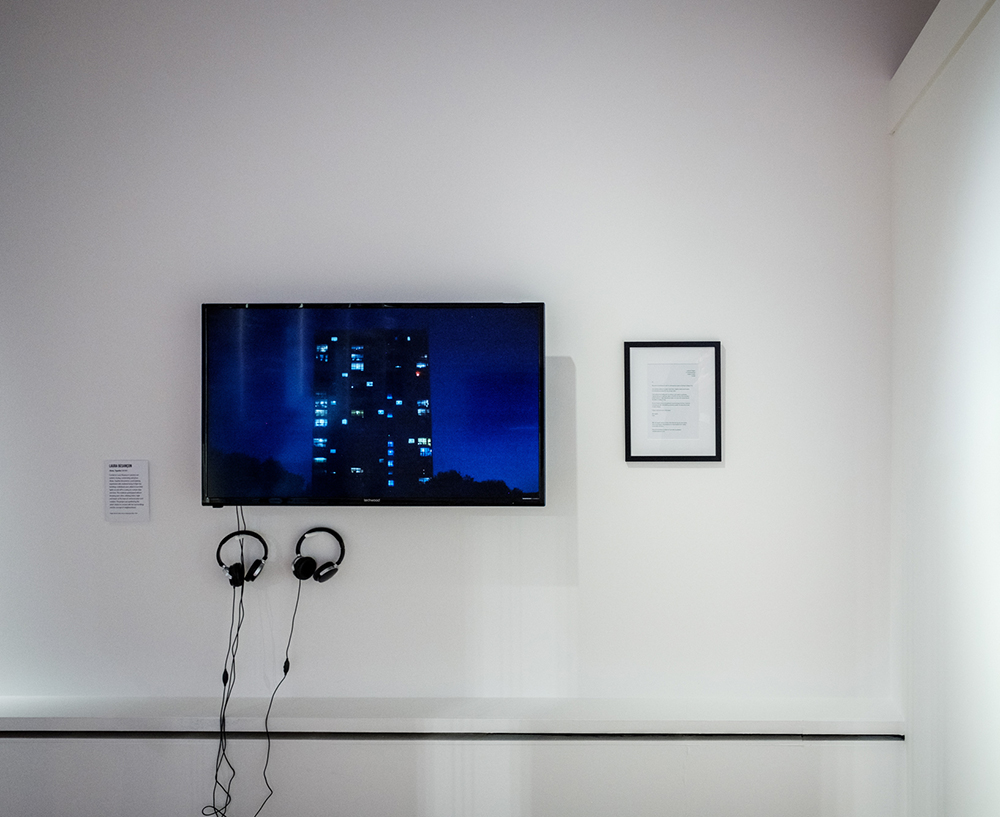 Connectivity is a common notion in your work, why is that? 
I work intuitively, and I think this way is very tied to the interconnectivity of all things. My background in communications and psychology may also be part of it. 
I am interested in how technology is shaping human relationships. In 'Alone, Together,' I use a more traditional way of communicating – a physical letter but also include my email, Instagram, and a youtube link. I am interested in revisiting and combining older, "slower" mediums and tools/processes with other contemporary technologies and observing the outcomes.