Queens-born photographer Jon Henry is the recipient of the 2020 Arnold Newman Prize For New Directions in Photographic Portraiture for his series "Stranger Fruit". We caught up with the artist to talk a bit about his practice, the themes that he works with, and what influences him.
Henry began the ongoing series "Stranger Fruit" in 2014 in response to murders of Black men by police across the US. The series comprises portraits of Black mothers and their sons, taken in various locations and settings, arranged in a pieta-like composition. The photos are untitled and the subjects remain anonymous; however, the location names are included as points of reference: North Minneapolis, MN, Little Rock, AR, Jersey City, NJ, Central Los Angeles, CA, Harlem, NY, Wynwood, FL, etc. The different locations point to the prevalence of police violence across the country. 
The accompanying text about the series notes: "The mothers in the photographs have not lost their sons, but understand the reality that this could happen to their family." Henry continues, "Who is next? Me? My brother? My friends? How do we protect these men?" The resulting images are a poignant look at motherhood and loss in the face of prevalent violence against Black bodies. 
A focus on sociopolitical issues, in tandem with religious iconography and art historical references,  characterizes Henry's photographic practice. As a former athlete and sports photographer, Henry also frequently photographs athletes, highlighting their movements, bodies, physical presence. In "Grappling with Perception", young female athletes — wrestlers — are captured both on and off the mat, in moments of fearlessness and fragility. While in "Ascension", athletes engaged in various motions, bodily contortions and gestures are depicted in darkened, nondescript spaces with lighting reminiscent of Caravaggio. 
What comes to the fore in Henry's overall practice is a focus on the body — simultaneously its vulnerability and strength. In his images, exposed flesh, its tensions, movement, and stillness, materialize through explorations of trauma, grief, representation and community.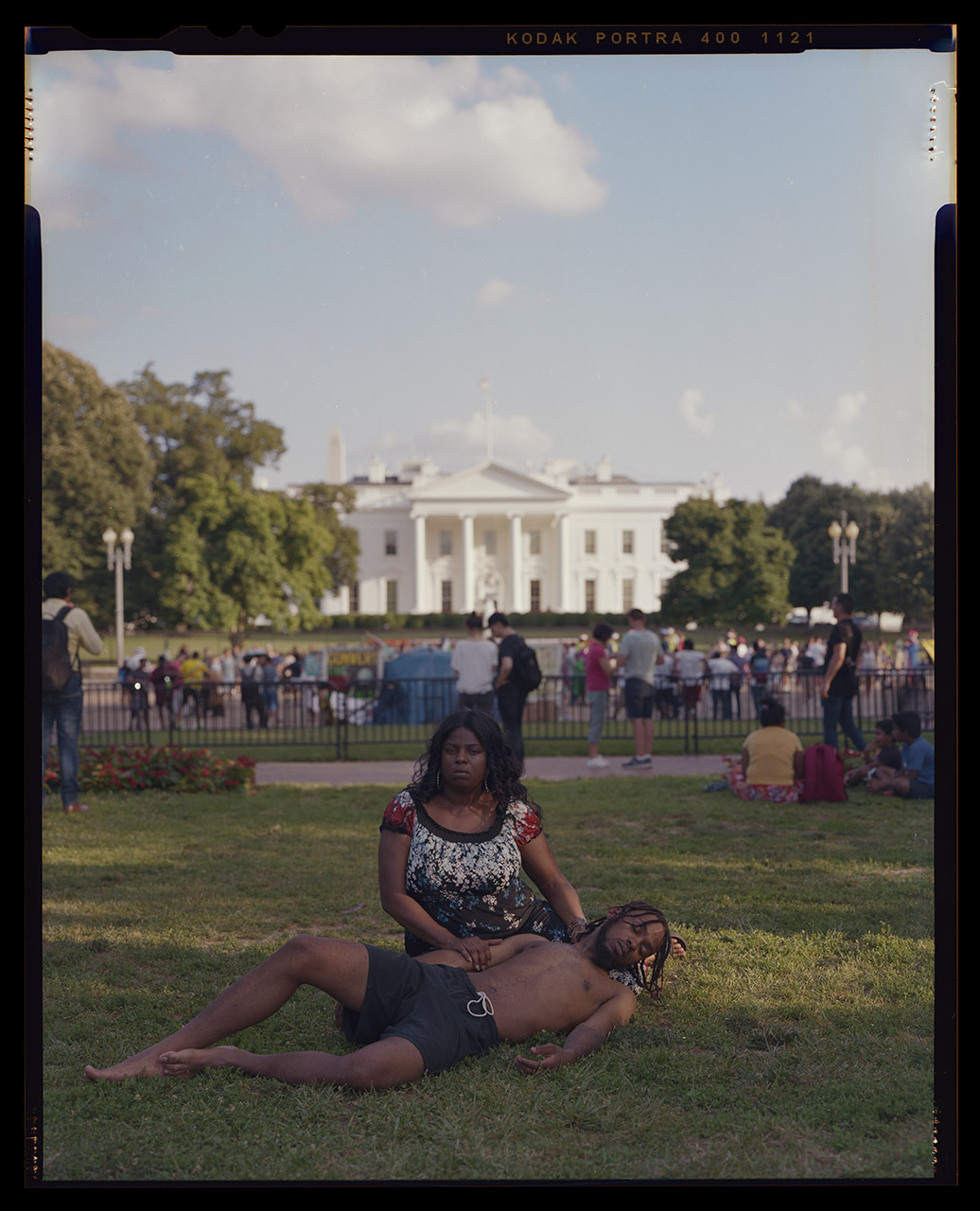 What drew you to work with photography? 
Painting was my first love or how I really became interested in art, but I'm a terrible painter, so photography became a natural next step.
You were recently awarded the Arnold Newman Prize for New Directions in Photographic Portraiture for the series 'Stranger Fruit' (congratulations!). The photos in the series respond to police violence against black men, showing mothers — with and without their sons — contemplating the pain, and reality, of loss. The photos are shot in many locations throughout the US. How were these locations and settings selected? Was this part of a collaboration with the subjects you photographed? 
The locations are either where the family lives or works, so there is a familiarity with the surroundings.  I base the locations off of what is available and what makes the most sense (visually) for the image.  Not as much collaboration, more scouting.