Anne Duk Hee Jordan's interdisciplinary work is sculptural, transient, living. Bridging ecology, philosophy, and fantasy, she builds structures and systems, experimenting with environments that intersect with and move beyond the scope of the human.
In her practice, Anne Duk Hee Jordan largely focuses on topics concerning gender, sexuality, colonial histories and climate change. Combining ecological study and speculative fictions, this often manifests via hands-on research and material explorations of plant life, tiny living beings, and machine consciousness.
Following her studies at Kunsthochschule Berlin Weißensee, Jordan was a student in the inaugural class of Olafur Eliasson's experimental education and research project, Institut für Raumexperimente, at Universität der Künste (UdK), Berlin. This year, she has been nominated for the Kunstpreis der Böttcherstraße 2020 by Bonaventure Soh Bejeng Ndikung, founder of SAVVY Contemporary. Her ongoing edible sculpture project 'Into the Wild' is currently featured in 'Down to Earth' — part of the Berliner Festspiele's program series Immersion — at Gropius Bau, which is on through 13 September 2020.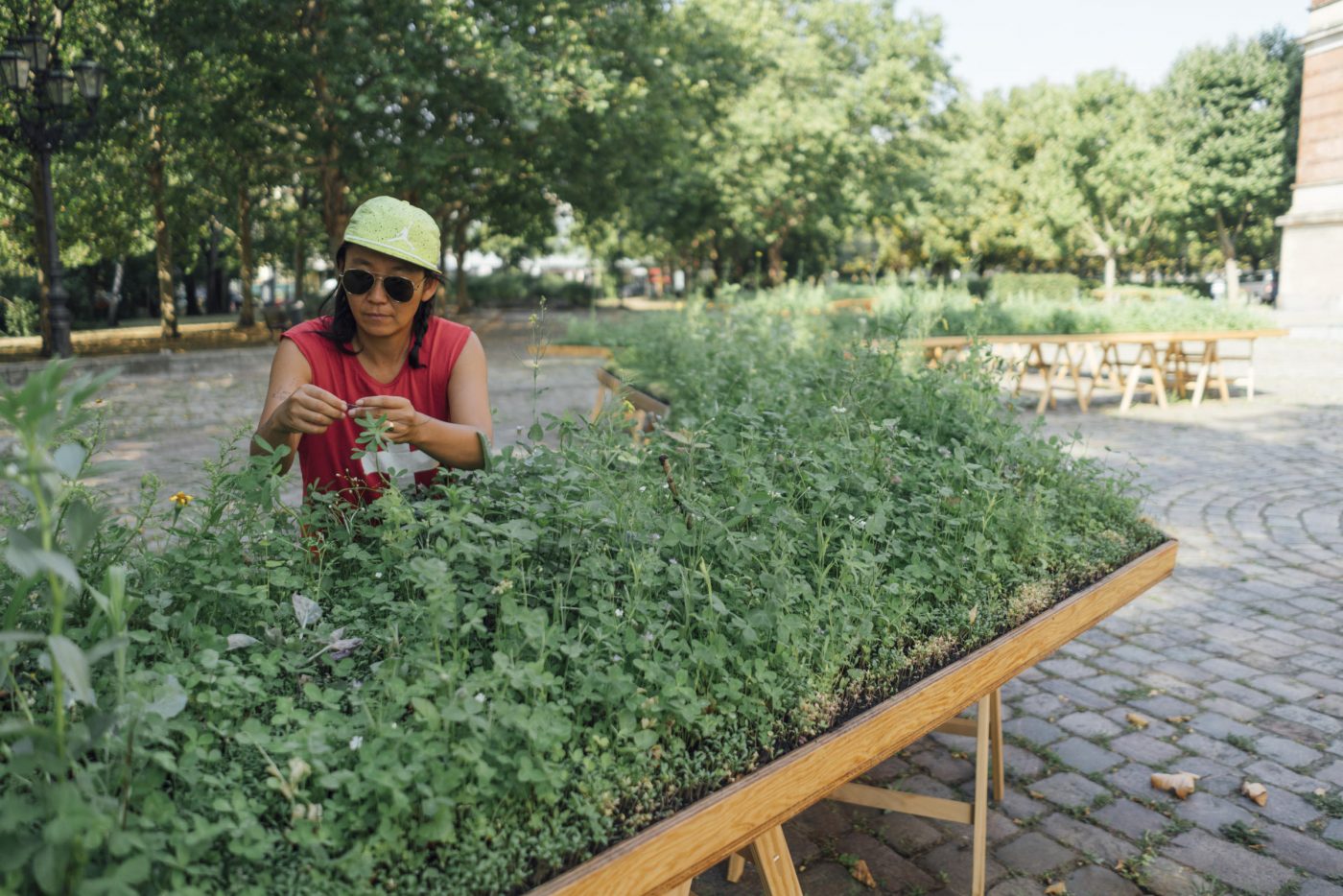 Your practice spans various disciplines and media, but frequently manifests through kinetic, durational, transformative and transient sculpture. What drew you to the medium of sculpture?
I studied sculpture (stone carving) at university. I always have worked in the medium of sculpture. I started at an early age (and I mean early, like 5 years old) investigating ecosystems on and under land. The exploration of a tiny me watering with oversized rubber boots in the little stream next to our house to explore the exciting life of bloodworms and other weird critters. I always brought my catch of the day home and showed it very proudly to my parents. They weren't so thrilled about it. Another fascination was my dad's big construction company. This was my daily playground. I learned to drive all the big machines, climbing up the big crane and concreting the shovels of our workers. I guess that was an early piece of mine. Sculpture, to me, is about experimenting with the environment we inhabit. Therefore, the essence is always transformative, as environments are moving, durational and transient.
In addition to your art studies, your educational pursuits have also included rescue diving and wildlife research — which you are now undertaking in Berlin. Can you tell us a bit about the work that you are doing in the context of wildlife research?
I am often researching tiny living beings; I am interested in new or forgotten species. I question if there is still such a thing as "wildlife", in fact. In my daily research, I observe the crabs and fishes in the aqua-scapes I build; everything which is alive and non-human gets most of my attention and floats into my daily dreaming and thinking. This kind of research directly influences my work.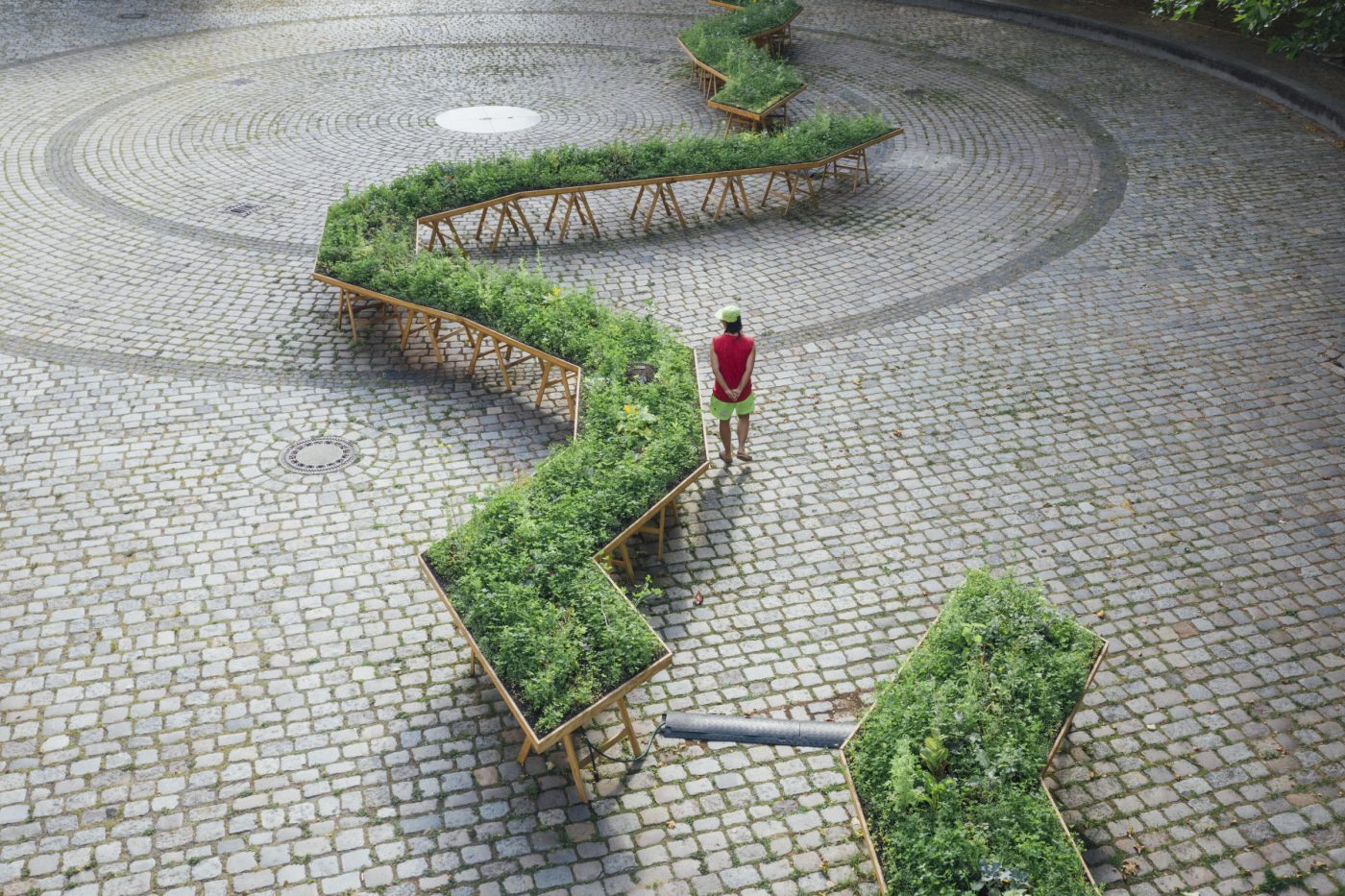 Your edible sculpture, 'Into the Wild', which is currently featured in 'Down to Earth' at Gropius Bau, is an iteration of an ongoing project that takes shape in different locations via their specific food cultures. What is the edible sculpture at Gropius Bau composed of?
The edible sculpture is composed of lots of soil and various known and unknown herbs, all edible plants, invasive weeds that are very healthy but annoying for some gardeners and vegetables such as tomatoes and peas, etc. There are more than 300 plants on the table. All those plants are present here in Europe because of their own colonized history. We take the tomato, potato and the pea for granted. But those plants are not originally from Europe. They came here because someone went for adventures and exploitations to other continents and brought their conquest with them. The question is, which came first, the egg or Columbus? If we look at the history of our domestic edible plants we can basically follow the tracks of the biggest colonizers of the world. So here I focus on a very local but simultaneously very global food culture. I mixed them all together as seedlings and let them grow wild. It is up to the viewer to discover and get to know the hundreds of different plant species and make up their own stories.
"Sculpture, to me, is about experimenting with the environment we inhabit. Therefore, the essence is always transformative, as environments are moving, durational and transient."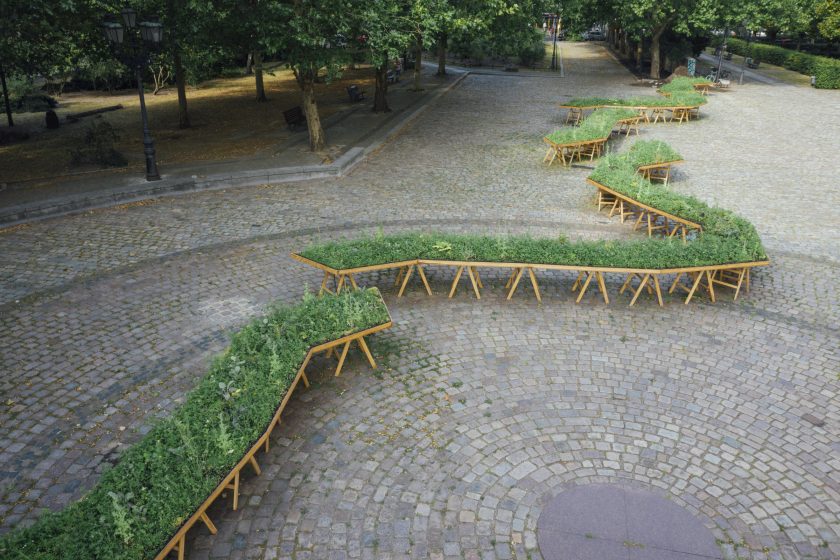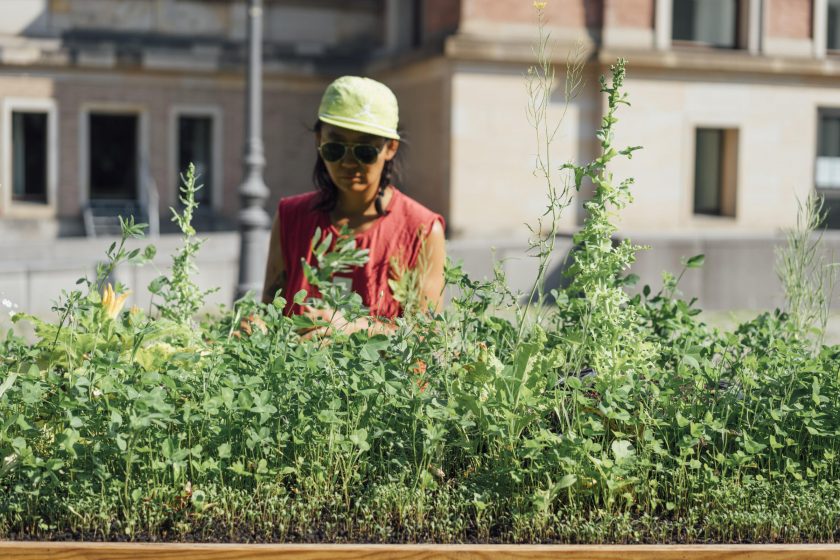 What is the research process like when approaching such a project? And what is the impetus for the form/structure that these edible landscapes take?
Every itineration of 'Into the Wild' takes a different form and approach depending on the research and the country it happens. I collaborate a lot with different experts. For Argentina, I collaborated with curator Pauline Doutreluingne, Perla Herro, founder of slow food movement in Buenos Aires, and Granja la Lechuza, an organic farm in the Atlantic rainforest in Missiones Province. There, it dealt with medicinal plants and the knowledge that still exits and gets disseminated around it. It becomes a chain of food activists, gardeners, farmers and traces and movements of plants. So there the sculpture was very much influenced by how organic farmers try to fight the monoculture system and how that translates into a miniature landscape of plants supporting each other.
When in Europe I mostly collaborate with Das Herbarium Leipzig, which is very dedicated and knowledgeable about local edible plants since generations. This time it was important to me to grow everything on the table from seedlings and to also let nature do its work and start from the soil itself — not knowing what would come out or not. We started the installation and growing process two months ago and installed a complete irrigation system. The form is always reflected by the surrounding environment and context. Everything is connected and the plant protagonists are selected on the basis of the local habitat and issues I come along in the process that need to be addressed. So the sculpture becomes social as it talks about urgent and current ecological issues. It's indeed slow art.
Your work has often engaged with Donna Haraway's work, and in 'Into the Wild' the 'Cyborg Manifesto' is referenced in the context of the performative dinner, in which attendees are invited to dine at the edible landscape table. Can you talk a bit about your reflections on the 'Cyborg Manifesto' in the context of this work?
I created a four-course menu for dark ecologists in collaboration with Mr. Chan. Each course is dedicated to thinkers that inspire me. Donna Haraway's thinking about hot compost piles and the way we adapt to the ongoing mess and trouble we create resonates with my own perspective and the way I work.
Cyborgs stand for cybernetic organism. It is our present and future simultaneously. This idea of human and machine, feminism and kinship, is our most important political construct, a world-changing fiction. We should re-think the expression and the meaning of feminism. Its interesting to know that the notion of feminism was invented in 1871 by the young French doctor Ferdinand-Valere Faneau de La Cour in his doctoral thesis. According to de La Cour's scientific theory, feminism was a pathology that affected tubercular men, producing a sort of secondary symptom — a feminization of the masculine body. So feminism used to be a word to describe men that lost their masculinity. Paul B. Preciado described this in detail in his latest book An Apartment on Uranus (2020), where he describes it as amnesic feminism. So I bring into my work this world-changing fiction that Haraway introduced — already in 1984 — with the 'Cyborg Manifesto', because she is a master in creating new thought perspectives. And that is what I hope to achieve through the sensorial sculptural experience of 'Into The Wild'.