Multidisciplinary artist Jenny Rafalson was selected as the runner-up in our open call 'Passion' with her project 'Forbidden Fruit,' in which she explores questions of immigration and belonging through photography and video.
Jenny Rafalson was born in the former USSR 1986 and emigrated to Israel with her family, where she grew up. She works around post-colonization, culture myth, and hierarchical structures of power represented by plants in different contemporary cultures. Through it, she attempts to talk about her failed yearning for belonging as an immigrant.
Rafalson received her MFA from the School of the Art Institute of Chicago in 2020 and graduated from the Hadassah College Bachelor program for Photography and Communications in 2013. She was the recipient of the James Weinstein Memorial Fellowship for 2019-2020.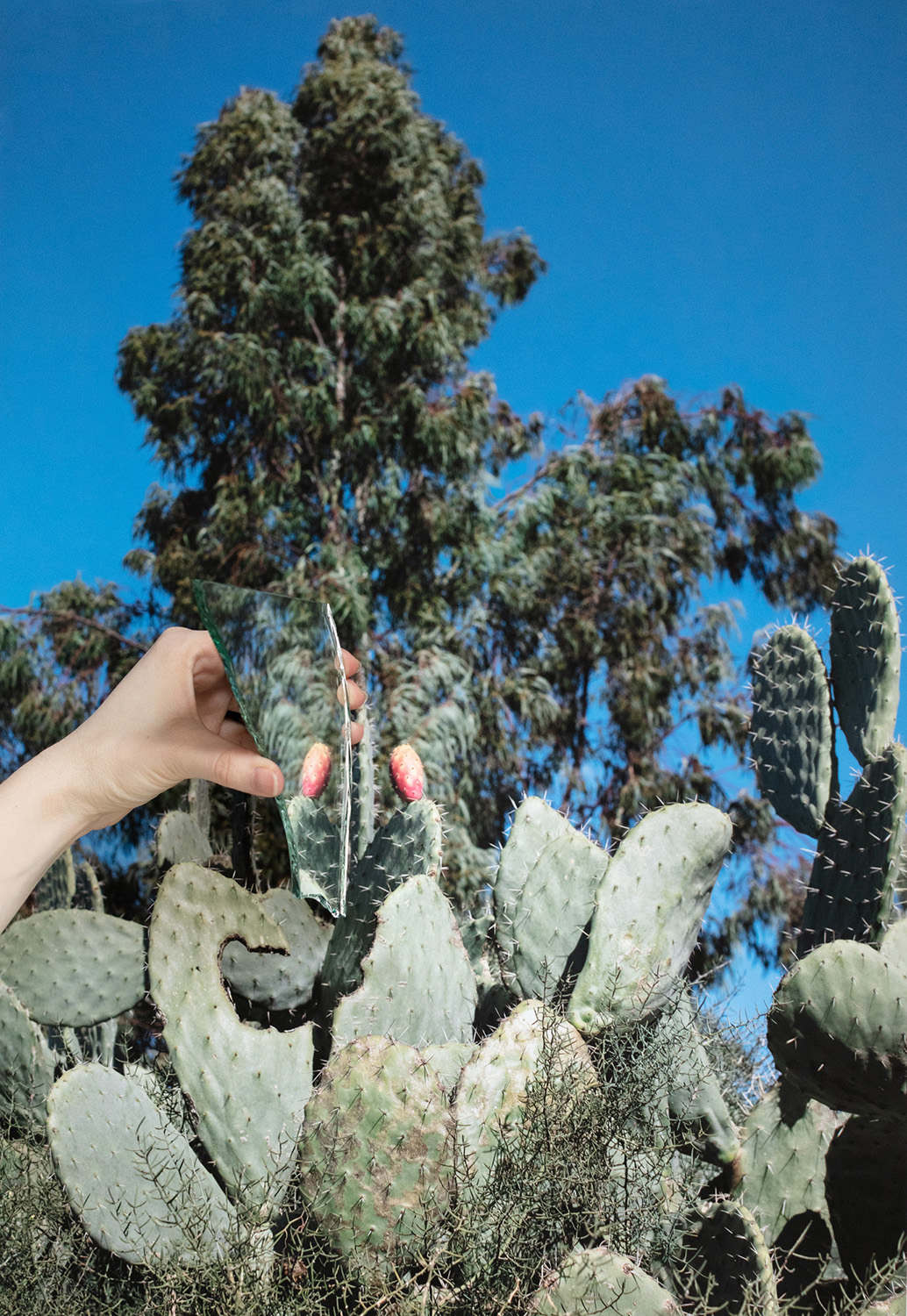 Congratulations! How did it feel being awarded as the runner up in our 'Passion' call? 
It was surprising, and I was very happy about it.
What were your thoughts on the theme of 'Passion'? 
I related passion to desire. Recently, I'm thinking about the desire for belonging, a feeling of home, and a longing for a fantasy about a place I didn't get to know. I guess it comes from a place of distance from the place I call home, Israel, and the fact that the place where I was born, the Soviet Union, no longer exists.
Your submission is a personal story of identity, belonging, the concept of home, and growing up as an immigrant. How was it to explore these themes?
It was interesting and hard at the same time. I have been dealing with these topics for a long time. At first, it was really hard to reveal my personal story. But over time, I feel it is important to talk about the difficulties in immigration and integration, about a lack of belonging, especially as children.
By building a new environment with images from places you've lived, you are playing with the dialectical concepts of space and non-space that you experience as an immigrant. Can you tell us about the process of creating this simulation and what it meant to you? 
Being an immigrant and a foreigner in a society, both Israeli and American, allows me to have both an outside and inside viewpoint. Building the spaces in the studio, in a safe and sterile space, let me have another level of detachment from the place I call home and more critical observation on the place and the concept of home.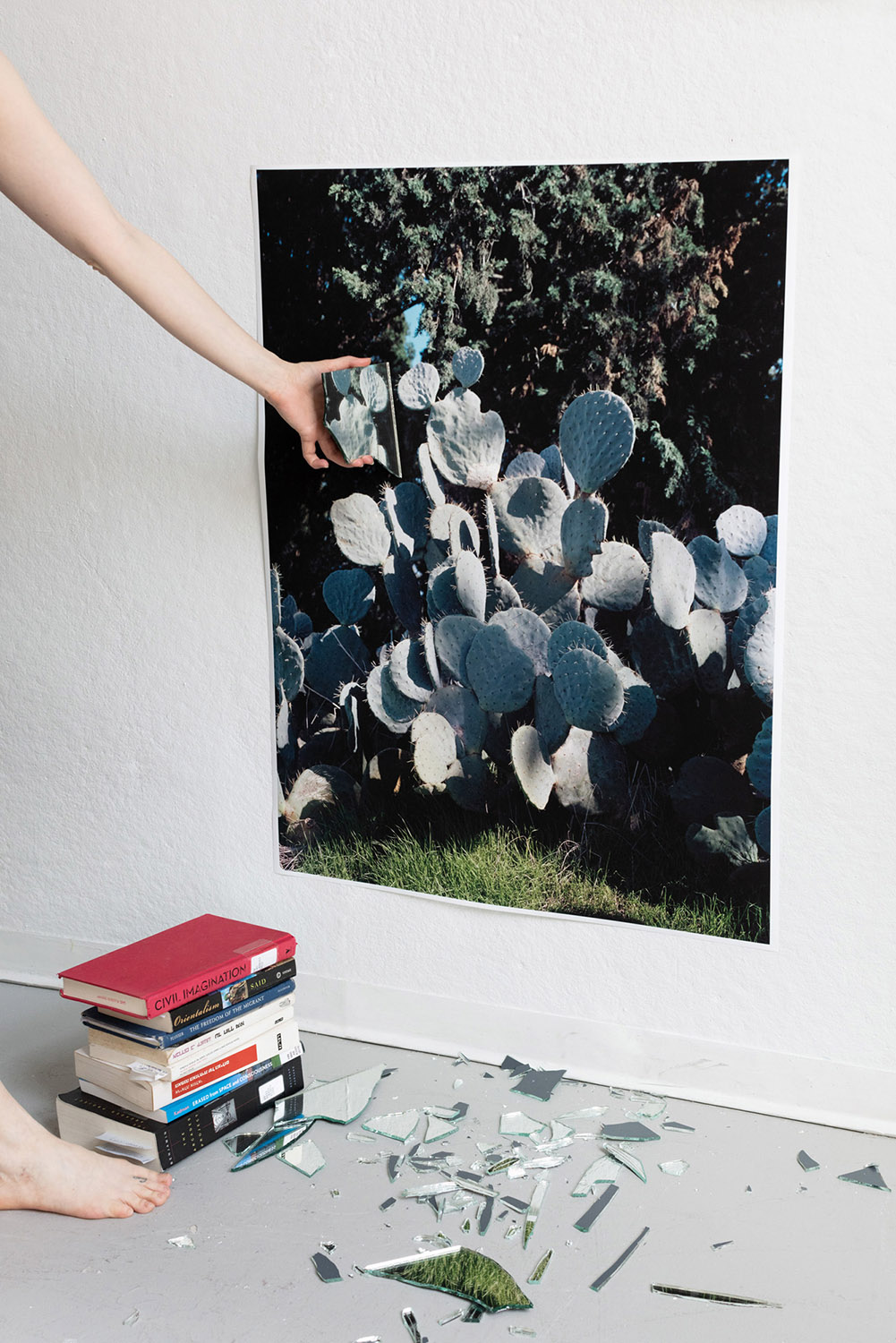 The accompanying video work tells the story of being an outsider and giving up your own culture for someone. It is framed as a love letter; why did you choose that narrative? 
Over the last two years, as the crises in Israel have deepened, I've had many thoughts on how to talk about it. How do I talk about the place I call home that is so complex? How do I tell my personal story as well as talk about the political conflict? This is why I chose the format of a love letter – to a relationship that is important in my life, but that, at the same time, didn't work the way I thought it would.
What does the title 'Forbidden Fruit' represent to you? 
For me, the 'Forbidden Fruit' symbolizes the metaphor of the tree of knowledge. What access do we have to knowledge? How can we easily distort knowledge and nurture it in the interest of one party? Of course, I am talking about the Israeli-Palestinian conflict and my place as an immigrant in the Israeli culture and the conflict.
The 'Sabra' cactus plays a vital symbolic part in 'Forbidden Fruit', could you tell us more about your relationship with the Sabra myth? 
'Sabra' is a Hebrew word with Arabic origins, and is used to refer to a Jewish person born in Israel. However, it is not a native plant in Israel and was transplanted from the Americas in the 16th century by the Spanish. It is ironic that both Israelis and Palestinians see the Sabra as a national symbol of ancient roots and connection to the land. Growing up with the Sabra myth, I knew enough to change my identity to adapt to the Sabra features, but not enough to understand the depth of the history behind it. In the 'Forbidden Fruit' project, I question my belonging to the culture and the place through the myth of the Sabra. I talk through the Sabra plant about my belonging and disconnection to the place I call home, the longing to be a part of society – to be a Sabra, and the inability to belong to that place because I am an immigrant.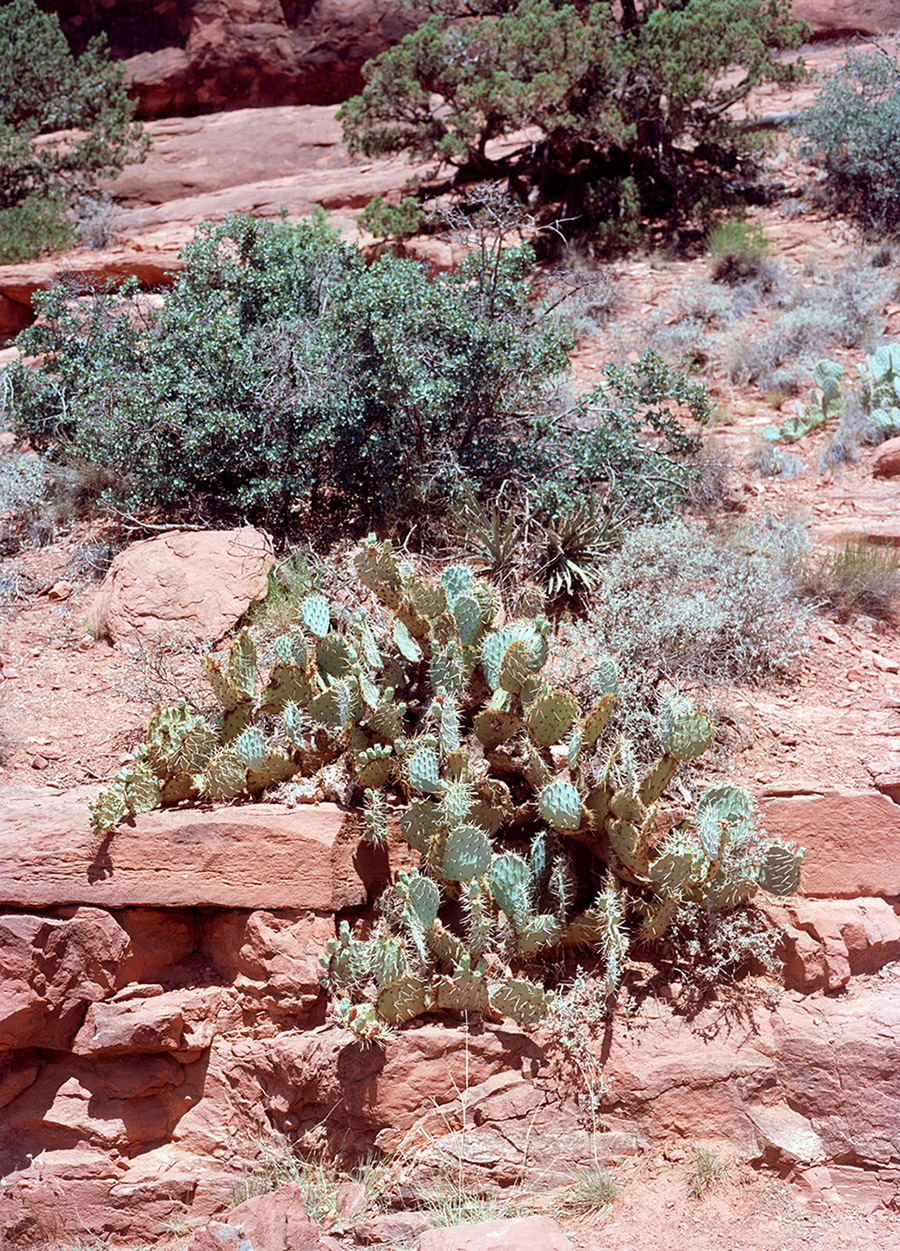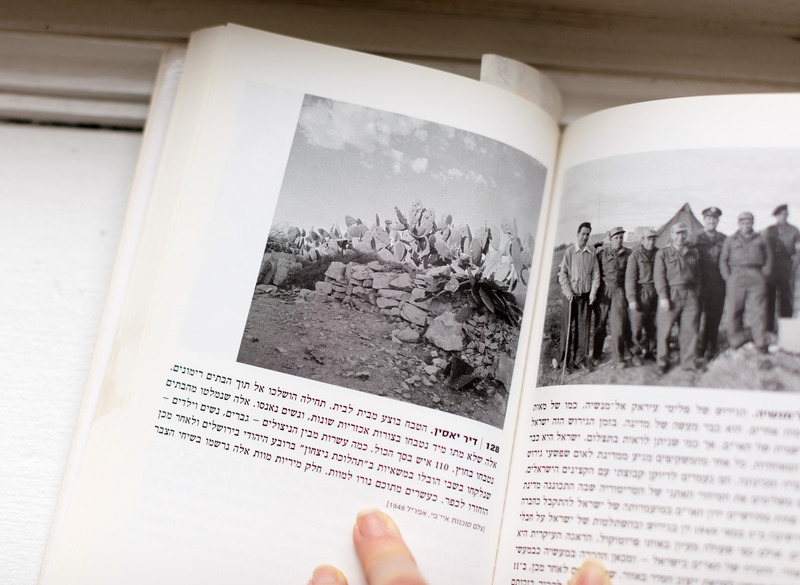 Vegetation is a recurrent symbol in your body of work, how come? 
I still don't know exactly why I chose to speak through vegetation. It could be connected to where I grew up, a relatively rural area, or maybe the weekly hikes I did with my friends as a teenager, or perhaps it's the lack of vegetation in the harsh winters of Chicago – or a combination of all these things.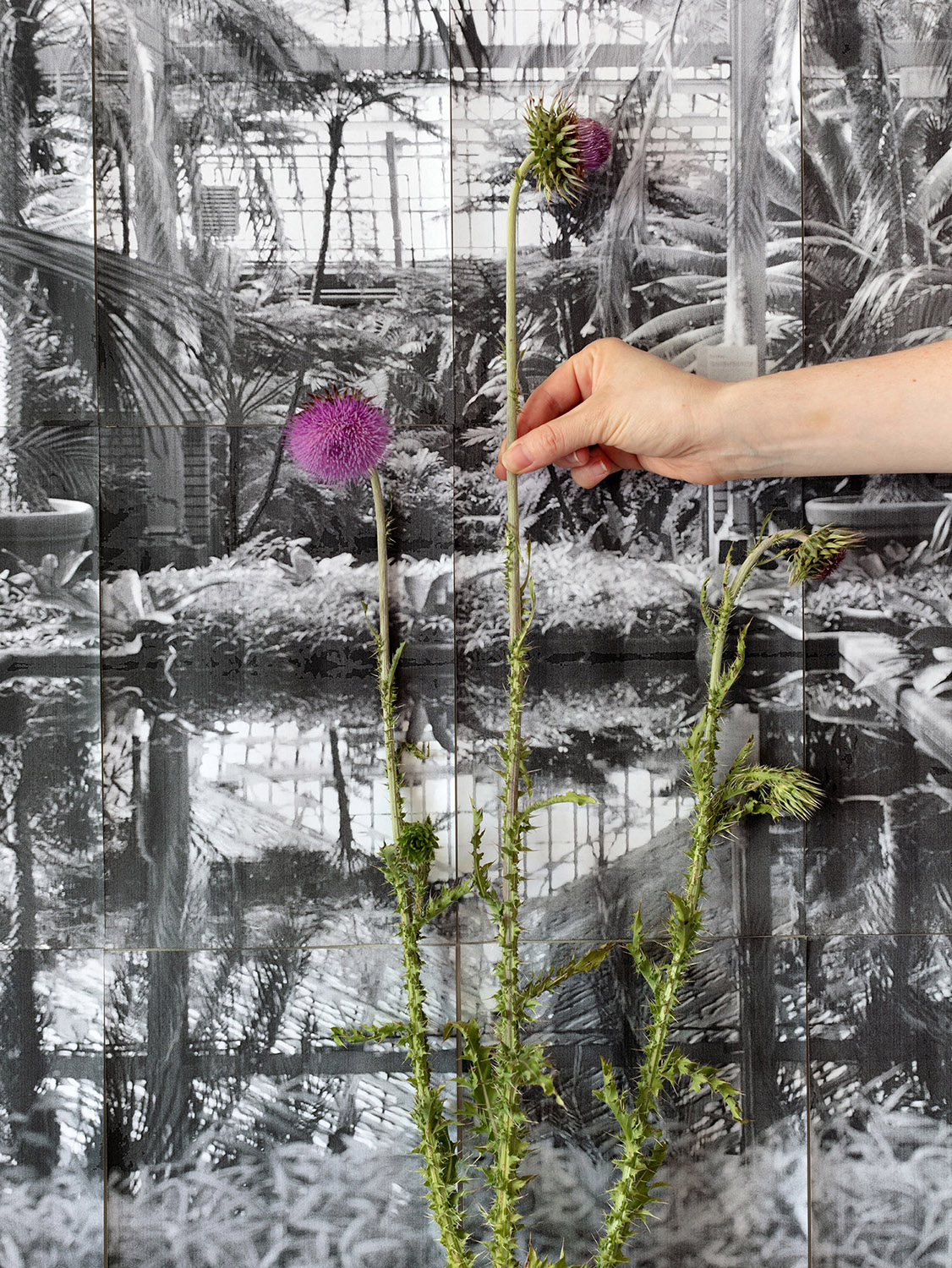 In your project 'Unconscious Returning,' you are exploring similar themes as 'Forbidden Fruit,' can you tell us about that project and how it corresponds with your later work? 
In 'Unconscious Returning,' I researched Russian culture, which I was trying to erase and was ashamed of for many years. I denied Russian culture from home, so I hardly knew it anymore. In this project, I created a culture for myself from other people's stories. Many of the images in the series are appropriations of experiences and memories that are not mine – that I borrowed. One of the reasons for my preoccupation with my Israeli identity came from the place where I became Israeli, in the United States, compared to Israel, where I was Russian.