Art, whether it be written or visual, always has traces of its maker. But not all art feels like getting an intimate glimpse into the mind of the creator. A self-described 'shy radical', Hamja Ahsan's writing feels deeply personal yet relatable. Emily Rueggeberg sits down for a virtual chat with Ahsan to learn more about his practice, upcoming projects and what lockdown life is like in London.
Hamja Ahsan is an artist, activist and curator of the zine festival ​DIY Cultures Fair​. Ahsan ran the ​@freetalha​ campaign, to stop the extradition of his brother Talha Ahsan to a US death row supermax prison and guarantee his freedom and right to a fair trial. The campaign highlighted the abuses of the War on terror using creative methods such as prison poetry, art and film – which was recognised by being shortlisted for a Liberty Human Rights Award. Ahsan is also the author of ​Shy Radicals​ (2017, Book Works), a satirical manifesto reimagining a world where Introverts and those on the Autism Spectrum have a sovereign state for both quiet reflection and the tools to overthrow what Ahsan wryly refers to as Extrovert-Supremacism.
​Shy Radicals ​has been made a film by ​Black Dog Films​, slated for screenings at film festivals worldwide in September of this year. A neurodiverse individual himself, much of Ahsan's practice draws from painful memories of his youth where quiet children were prime targets for bullying.
'​Shy Radicals c​omes out of my own life experience of acute shyness and a different way of being from childhood until the present day. School would punish me for being quiet and not speaking and humiliate me. That was coming from the teachers and the students. So I was often in detention, made to write lines, made to have corrective behaviour. In some ways institutions aren't provided spaces which are accessible for different types of bodies and different types of thinking.'
What began as an autobiographical project exploring the structural shortcomings in institutions for disabled people like Ahsan, ​Shy Radicals ​became a movement embraced by the global neurodiverse community. Ivy League universities place the book in their ​syllabus on modules related to Neurodiversity, alongside Steve Silberman and Octavia Butler.
During our conversation, Ahsan is clear that ​Shy Radicals​ is a manifesto for anyone who finds themselves on the fringes of society. The pain experienced by the book's characters is all too relatable to shy and neurodiverse readers. The book assures readers that any problems socialising in childhood and even into adulthood are not shortcomings on their part; rather, they stem from a lack of support systems for disabled individuals. Ahsan tells me how institutions aren't structured to be accessible to different ways of thinking as well as different types of bodies.
We also discussed disability from the perspective of race, and how most policies meant to help white, able-bodied members society are actively harmful to the BAME population in the UK, barring access to essential mental health services. Ahsan's own experiences from everyday encounters of racism from childhood caused him to shrink back and become even more reserved than before.
"I found it was often quite context dependent in the way I developed shyness, in which people didn't take responsibility for the way they muted me. So let's take, when I was a child, my hair was really long. I never cut my hair. I was too shy to get it cut. And the reason was when I was a child, we used to go to this white, racist barber with page 3 Sun newspaper calendars on his wall."

"I do think a lot of the systems such as therapy in medicine and diagnosis are designed with the white European lifestyle. That's why black men are overly diagnosed with Schizophrenia. And you know, we just look into the course of time. Women aren't dying from hysteria anymore. You can see Homosexuality is no longer in the diagnostic manual. It was removed in 1976…You see how it can be used as a tool of oppression and create further marginalization rather than empowerment."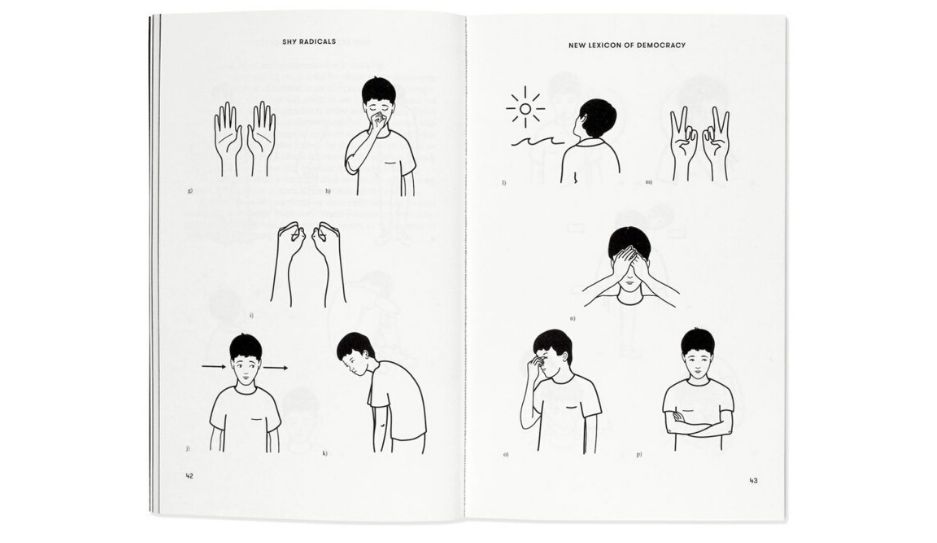 Ahsan says of his childhood, even with a depression diagnosis, Asian Muslim migrant families such as his were skeptical of the western medical model and its dependence on medication as a solution. While this attitude could be seen as detrimental to one's health, Ahsan learned to see it as a form of resistance to colonialist thinking.
"I actually think within it [clinical psychiatry], there's some sort of resistance to the medicalization of life. So I can think of my mom as a radical postcolonial theorist, being an Asian mum."
Shy Radicals​ is taught at universities from Brown and Birmingham to schools in the Netherlands. Ahsan describes tracking the trail of projects directly inspired by ​Shy Radicals​, citing too many to cover here. Some standout projects and groups include Manchester Academics Against Networking, choreography in musical schools as well as sculptures inspired by the book's reimaging of non-verbal cues through body language. In Seattle Washington, there's even a college teacher using the book as a tool for teaching English to migrants in order, 'to think about other forms of communication.'
"The project was recently included in an exhibition curated by Dolly Sen at ​Bethlem Gallery. I'm looking at protests and madness. I've taught the book in maybe eight different countries…Slovenia, Italy, Norway and Switzerland, Scotland, Germany and the Netherlands would have happened, but were cancelled due to lockdown."
Ahsan's work is also included in the group exhibition ​Crack Up ​–​ Crack Down​, ​curated by Slavs and Tatars​ in Warsaw Poland. The show explores the successes and shortcomings of satire in art.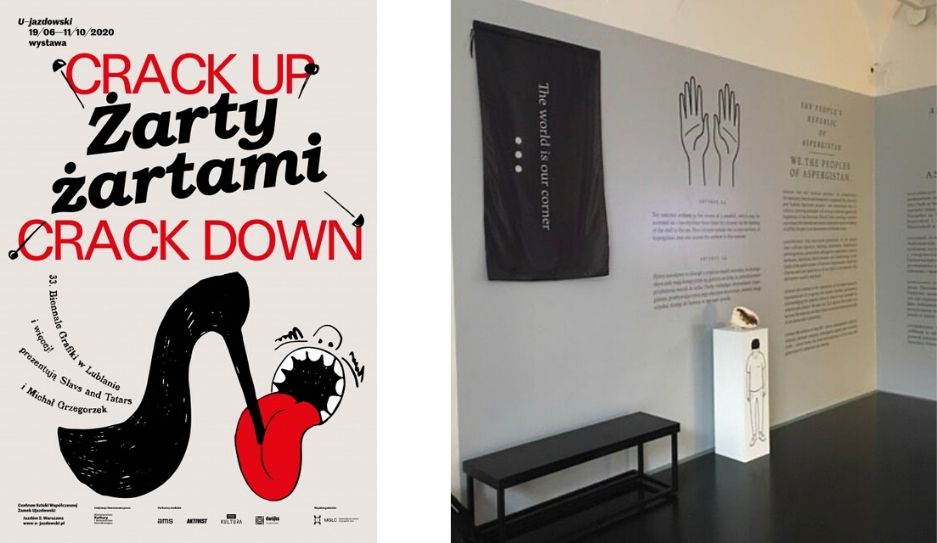 Ahsan's voice, no matter how quiet or removed from the public eye, speaks volumes, shaping the subversive strategies for dismantling racist, ableist and colonialist attitudes in Britain and abroad for people seeking alternative forms of protest.
"There's been a whole new generation of shy radicals. ​Frieze​ magazine had an article that made me rethink the whole art world and it says ​Shy Radicals​ was ahead of its time…So imagine if Aspergistan was a real nation, it would have a zero infection rate. A zero death threat."
We discuss the legacy of zines and their ability to connect members from marginalised groups and subcultures. Their use of guerilla-style warfare tactics – stealthy or covert acts of resistance – are inspiring more young people to add their voice to a growing movement demanding an end to discriminatory practices towards POC, LGBTQ+ and disabled individuals. Since lockdown began in the UK on 23 March, 'quaranzines' began emerging as a way to express personal experiences of lockdown life, creating a digital lifeline to connect with others. The zines have proven especially useful tools for sharing stories from neurodiverse community members. For many disabled folks, being forced to isolate for weeks at a time with little face-to-face contact is not the 'new normal'; it's their everyday existence.
"I've contributed a lot to the zine culture around quarantine. There's a lot of zines called quaranzine. I've contributed ​quaranzine​ tips in isolation. I've also contributed towards Tate Modern; they have been asking me for research about how I deal with isolation."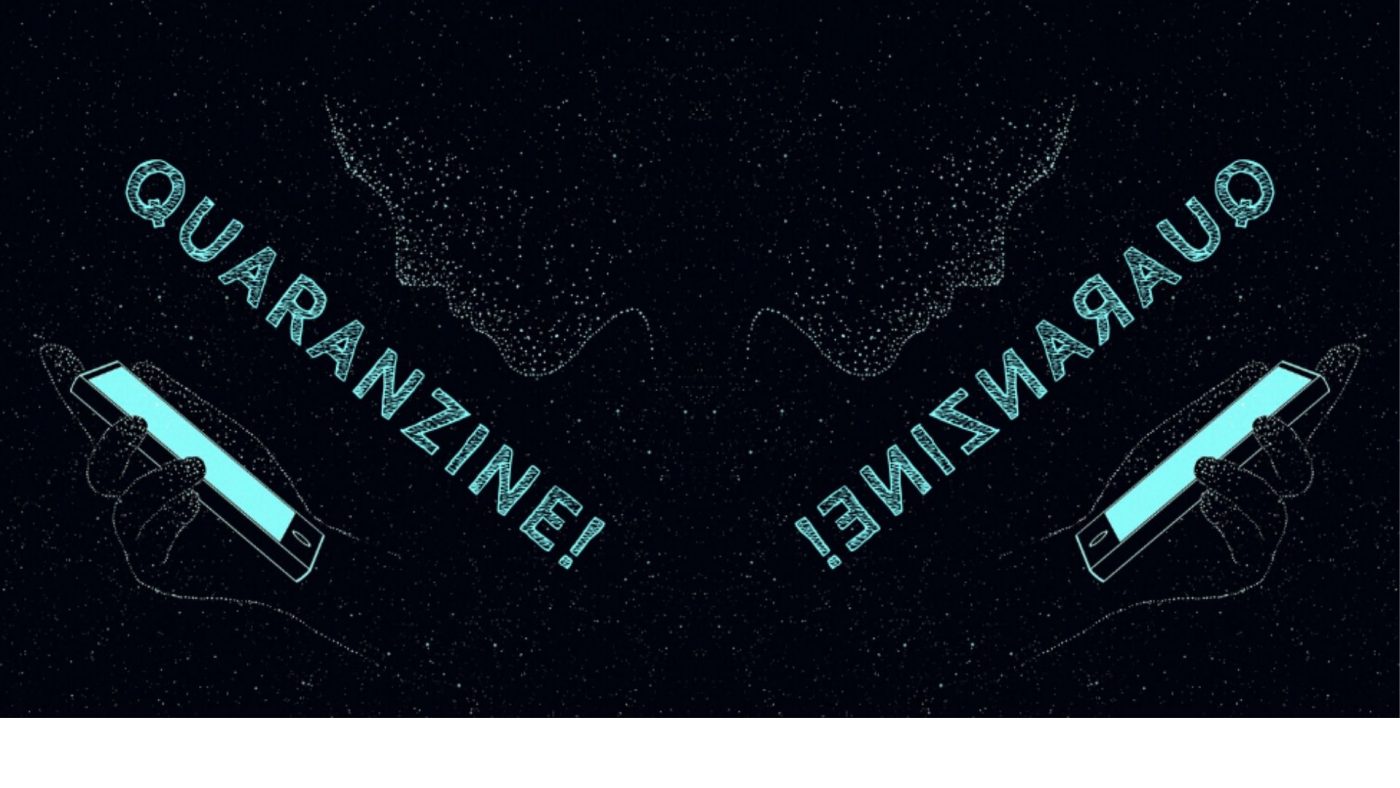 While lockdown has slowed the pace of many people's lives – for better or worse – creatives like Ahsan are busier than ever. Ahsan sees the act of making art as disruptive to the capitalist economy. He says, 'You have this thing that can't be quantified into units or labour. You're doing something which doesn't really pay market value in the same way.'
On the other side of the coin, artists are a large part of the gig economy, going from one freelance job to the next. The lack of job security makes artists easy prey for exploitation by even the most 'woke' organisations or art patrons, draining every ounce of creativity from them. Ahsan speaks about the toll the lack of work-life balance has on his mental health and lockdown life, exacerbating symptoms of depression and burnout even further.
"There's not really a proper sense of labour in terms of…it doesn't quantify in the same way as other forms of labour. There's no separation really between labour and leisure.'
Shy Radicals​ may not have been written in an isolated setting with near empty streets, but it has certainly been of great comfort to readers in the current climate. Based on the deluge of fan letters Ahsan has, and continues to receive, it is clear that ​Shy Radicals​ offers useful advice for those struggling with being cut off from family and friends.
After being translated into​ Italian​ earlier this year, ​Shy Radicals​ was especially impactful for Italian readers who were placed in lockdown in the early stages of the pandemic, stuck at home as the world looked on. Ahsan tells me of the outpouring of support from readers, many in the form of letters expressing how the book brought them comfort in lockdown.
While Ahsan continues communicating with fans, he's also finding new ways to connect like- minded people. One way is through his latest project,​ 27 Book Club​: an online book club via ZOOM exploring the lives of the 27 Club members, named as such by Kurt Cobain's mother after the music icons who all died at the age of 27.
The book club is part of a wider art project 27/72 to be held at 2021 Ljubljana Biennial in summer 2021 about the 27 Club and its 72 year old survivors including Iggy Pop, Patti Smith and Debbie Harry around the themes of self-destruction and self-preservation within a mental health context. Ahsan also has plans to publish a series of zines on each of the 27 Club members in collaboration with other artists around the world.
You can see the list of 27 Club individuals to be covered in the book club on instagram and sign up to participate in discussing the books on Facebook.
To stay up to date with Ahsan's current and upcoming projects, you can follow ​@hamjaahsan or ​@shyradicals​ for postings. @shyradicalsfilm has the latest news on film but also ​SHY RADICALS​.
Read the original piece on Disability Arts Online.