Our media partner, Vienna Art Week is presenting its 2020 edition under the title 'Living Rituals' from November 13 – 20.
Due to the Covid-19 lockdown restrictions that are currently in place in the city, this year's program is going digital! Talks, studio visits, tours, and performances will all be made accessible online, with some installations also visible in public space. Not sure where to begin? We've put together this guide to some of the Vienna Art Week program highlights.
ada is … Healing
ada (artistic dynamic association) and artist Dr. Marcuse Hafner will be offering 'situation-related online remote healing' during Vienna Art Week 2020. Researching rituals, forms and processes of healing and therapy, the event reflects on the sociological and intermedial levels of medicine, via exploration of topics including doctor-patient interaction, the placebo effect, and self-healing powers. ada describes itself as a place of encounter. As "the last unrenovated apartment in a gentrified environment," The space, ada, is seen as a project for temporary artistic use, where the human condition is examined through art and artististic engagement. Due to the current Covid-19 safety regulations, ada – artistic dynamic association will also be exhibiting artwork in its closed space, which can be viewed by passersby at any time. The display will include work by Jürgen Bauer, Kerstin Bennier, Daniel Hosenberg, and Anna Mitterer, among others.
When: November 13, 2020, 4—7pm; Exhibition on view from November 13, 2020. 
Where: Situation-related online remote healing: https://meet.jit.si/ada_artisticdynamicassociation; Personal appointments can be made for healings at: sars@artisticdynamicassociation.eu; Publicly visible exhibition: Wattgasse 16 1160 Vienna
Susanna Hofer and Anna Paul. A Still Life of Bread and Butter
Anna Paul and Susanna Hofer will create bread objects and butter arrangements, respectively, in a participatory performance within the frame of the current exhibition at Academy of Fine Arts Vienna, "New Views on Same-Olds". Their intervention not only looks at eating as an everyday ritual, but also considers the basic needs of society — and what these mean in the current context of the Covid-19 pandemic and lockdown. The live action will take place at a market stall, where the objects can also be purchased and eaten. Afterwards, a video will be made available online. 
When: At the market stall: November 14, 2020, 8:00 am–12:00 pm; Online: from November 19, 2020, 4pm
Where: Naschmarkt, 1060 Wien; Online at: www.forum.akbild.ac.at
View this post on Instagram
Entangled Speech – Klaus Spiess, Lucie Strecker
The performative installation takes the form of a  biopolitical 'discussion', examining oral bacteria in connection with speech sounds to look at the implications of a lack of bacterial diversity in the oral cavity as a lack of defense against viruses. In their work, artists and researchers Klaus Spiess and Lucie Strecker develop bioartistic performances, often exploring ecolinguistic systems. Looking at the human oral microbiome — which describes all of the microorganisms that are found in the oral cavity — voice spectrograms and biosensors are used to mine the ecological environment created by salivary acids and respiratory oxygen in visitors' speech acts. 
When: November 14, 2020, 7—8pm
Where: Interactive Zoom Performance: https://us02web.zoom.us/j/81229678217; Watch live at https://vimeo.com/event/439716
View this post on Instagram
Open Studio Days Digital
Offering a behind-the-scenes look at the practices of Vienna-based artists, Open Studio Days are an integral part of Vienna Art Week. To adapt to the current lockdown restrictions, the digital iteration of Open Studio Days will take the form of a ZOOM marathon. Moderator Lorenz Seidler of eSeL will move from studio to studio, presenting a talk-show format that allows viewers to take part in a tour of artist studios throughout the city and gain insight into their work. The 70 participating artists were selected by a jury of curators, art editors, museum professionals, and the artistic director of Vienna Art Week. Also within the frame of Open Studio Days Digital, Living Rituals and Art Melange talks will also be held via ZOOM with selected artists on various dates. For the full program see the Vienna Art Week website. 
When: Saturday, November 14th and Sunday, November 15th,  1–6pm
Where: https://zoom.us (meeting ID: 872 808 0240) or enter directly at https://zoom.us/j/8728080240.
View this post on Instagram
House of Rituals: An Exhibition without an Audience
Curated by Vienna Art Week's artistic director Robert Punkenhofer and chief curator of Albertina modern Angela Stief, 'House of Rituals' takes place in an abandoned house, exploring the past and present of rituals, as something that provides social cohesion and structure in everyday life. The group exhibition features work by international artists, including: Marina Abramović, Vito Acconci, Paul Mc Carthy, Scott Clifford Evans, Hanakam & Schuller, Regina José Galindo, Thomas Gänszler, Oliver Hangl, Emiko Kasahara, Mike Kelley, Iwajla Klinke, Rudolf Molacek and Maria Serebriakova, Hermann Nitsch, Elisabeth von Samsonow, Nives Widauer, Erwin Wurm and Mia Zabelka. To comply with Covid-19 safety regulations, the exhibition will not be open to visitors. Instead, a virtual tour through the space, led by Robert Punkenhofer, will be made accessible online. Within the frame of the exhibition, there will also be a program of live-streamed performances and talks. 
When: November 16–20, 2020
Where: The exhibition will be available via virtual tour. More details coming soon.
View this post on Instagram
Kunstraum Niederoesterreich: Till Langschied – Palm Reading Of Tumaroh
Artist Till Langschied's Performance-Alter-Ego Tumaroh presents the first digital version of "Palm Reading of Tumaroh". Through the fortune-telling ritual of palm readings, the performance workshop looks at the connection between body and screen, body and server. Lanschied developed the avatar Till Tumaroh, which he uses in his performance work. In his practice, he explores the changing relationship between virtual and analogue. The performance workshop "Palm Reading of Tumaroh" takes place within the frame of the exhibition "Stormy Weather" at Kunstraum Niederösterreich.  
When: November 17, 2020, 7—8pm
Where: After registration, the participants will receive a link to Tumaroh's digital workspace. Register: anmeldung@kunstraum.net
View this post on Instagram
Queer Body Against_______
This group exhibition, curated by #FFBF00 — couple and curatorlia duo Victoria Dejaco and Julia Frank. focuses on intersectional feminism and alternative forms of coming together, looking towards a more just and equal future society — beyond white, patriarchal and capitalist power structures. 'Queer Body Against_______' takes place at Fluc — an artist-initiated space for art, music and club culture — and features work by Cibelli Cavalli Bastos, Julia Frank, Daniel Moldoveanu, Julius Pristauz, PPKK, Toni Schmale, and Mette Sterre. 
When: November 18, 2020, 7pm
Where: Online via: https://www.youtube.com/watch?v=rhKP9dAhBn4; https://www.unrast-verlag.de/neuerschaltungen/schwarzer-feminismus-detail; and more. 
View this post on Instagram
Future Talk: Climate X Change
"Climate conferences turn out to be annually failing rituals and do not lead to any lasting changes." This discussion, organized by Kunst Haus Wien, Museum Hundertwasser — Vienna's first "green" museum — will consider questions concerning economy and sustainability, including topics such as eco-social tax reform and potential incentives for developing and implementing sustainable solutions. Participants include Sigrid Stagl, Professor of Ecological Economics, Vienna University of Economics and Business; Stefan P. Schleicher, economist, Wegener Centre for Climate and Global Change, University of Graz; artist Oliver Ressler; and Fridays for Future activist Klara Butz. The discussion is Moderated by Michael Huber, from the daily newspaper Kurier.
When: November 19, 2020, 6—7pm
Where: Zoom-Link coming soon
Talk: Tracing Spaces
The talk "Tracing Spaces: Art, Mobilities, and Infrastructural Publics" with Barbara Steiner, Director Kunsthaus Graz and the organizers of the project space "Museum Nordwestbahnhof", Michael Zinganel and Michael Hieslmair, focuses on the research-based art projects and interventions that have been carried out onsite at Nordwestbahnhof — a major logistics hub. Situated in a place of comings and goings, their work looks at the everyday encounters and temporary communities that are formed and reformed, as well as alternative models of (post-) urbanism. 
When: November 20, 2020, 3–4pm
Where: Participate online via Zoom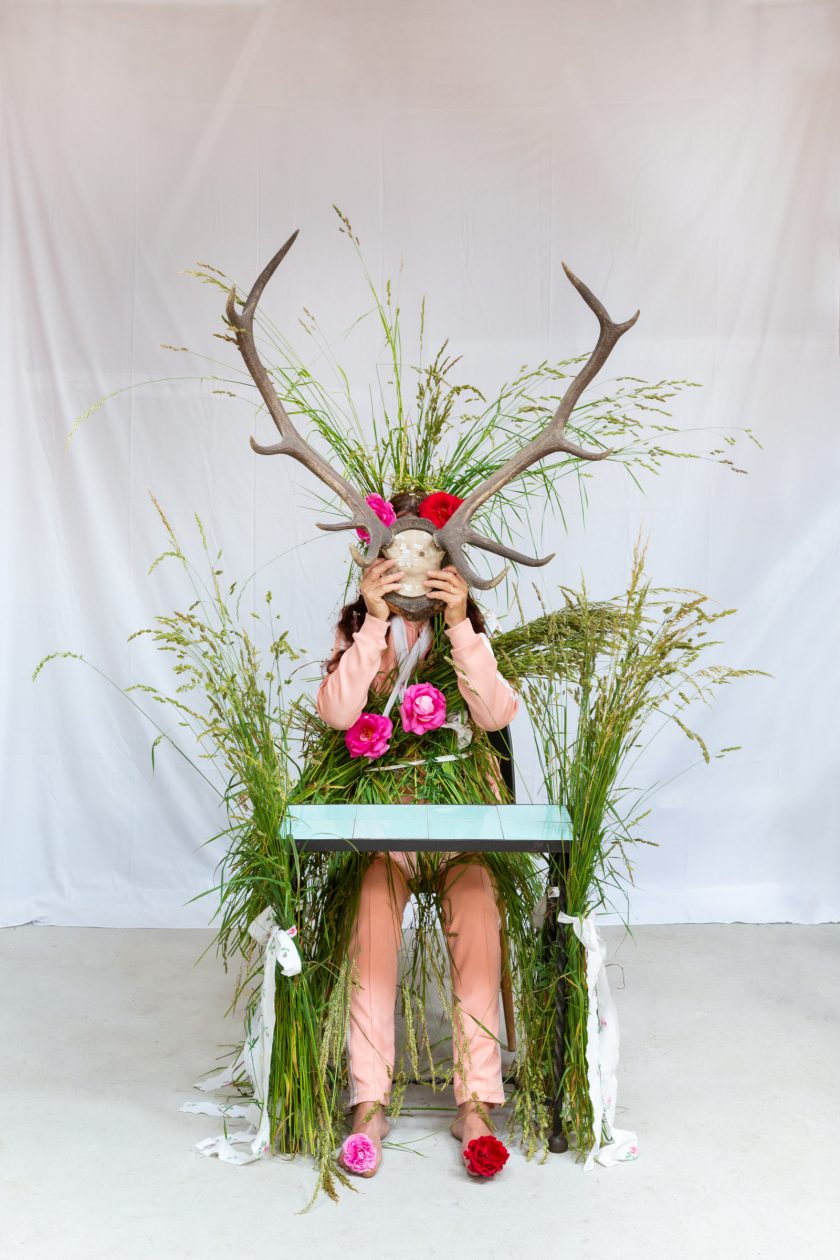 Kitchen Talk: Elisabeth von Samsonow and Erwin Wurm
Artists Elisabeth Von Samsonow and Erwin Wurm will discuss one-minute rituals — a reference to the repeatable, body-based actions of Wurm's One-Minute Sculptures. Addressing topics such as ceremonies, performance and body, the talk takes place within the frame of the exhibition 'House of Rituals', in which both artists are also participating: Elisabeth von Samsonow will present a live performance taking literary models of rituals into the contemporary context; and Erwin Wurm's 'Essiggurkerlbar' will be featured, inviting an absent public to imbibe a drink in the house's garden. 
When: November 20, 2020, 4—5pm
Where: Link to livestream will be available on the Vienna Art Week homepage.
ArtConnect is an official media partner of Vienna Art Week.
For more art events online and around the world, also see: What's on in November.
Keep up with the art world
Sign up to ArtConnect's newsletter