Time for some favorite projects from the ARTCONNECT network. This week's selection is a mix of video, multidisciplinary, and mixed media works.
About the project
A spoken word video project with abstract soundscapes and live-action footage. An audiovisual extension of my poem ENDLESS WHITE SPACE (from 2015). A narrative on the desire to give up and to wipe off the construction of the "I", after experiencing the own presence out of body. An extended quarantine project, aesthetically heavily influenced by the album Time Machines by Coil.
About the artist
Joanna Alicja Stotko is an interdisciplinary artist who works with the media word, sound and vision. Under the name DARC DEMAND, she connects all three media to various interdisciplinary projects with a thematic focus on the existential questions of being human, on borderline experiences and the resulting transformation process towards self-empowerment. She also uses art to explore the whole range of human emotions without restrictions. She lives and works in Berlin.
About the project
An Eternal Forest Sanctuary is a space for art, humans and biodiversity. A space designed in deep time, restoring our psyche, healing our sacred bond with nature, through storytelling and long-term care for a forest by its local community.
Eternal Forest Sanctuaries are created through art and poetry experiences, landscape design, and collaborative forest-ecology-art interventions.
This work is placed within a wider context of artistic practice, which explores the human relationship with nature, through the prism of time and our perception of it.
Eternal Forest Experience – has been launched at the Bienal de Coruche and is in the process of becoming a permanent art and poetry walk with preservation of local biodiversity and protection of forest, under custodianship of Municipality of Coruche, in Portugal (pictured in the photos) and engagement of local community.
The experience is based around Eternal Forest poetry Manifesto, which is at the center of Eternal Forest Sanctuary project. It is written in poetry form in English and Portuguese, it flows as an incantation,  with repetition and circular forms.
Eternal Forest poetry manifesto accompanies every experience and every initiation of every Eternal Forest Sanctuary, following the tradition of oral transmission. It is originally being read by the artist time and time again during Eternal Forest experiences, but also recited collectively as a community performance by people who are present at the initiation of the Sanctuaries.
The project includes a dedicated space in the forest, a series of visual artworks, Eternal Forest Manifesto poetry piece and film, an artist book, which invites the local community to create an Eternal Forest Sanctuary together, and Eternal Forest Experience in the actual forest – along with poetry walk and an Eternal Forest Sanctuary map.
About the artist
Evgenia Emets started as a photographer on the cusp of the growing photography movement in 2000 in Moscow. Her work gradually unfolded from direct portraiture to complex abstract and geometric work.
In 2007, Evgenia moved to London and graduated with her MA in Fine Art from Central Saint Martin's College of Art in 2008. She presented an immersive holographic and sound installation as her graduation work.In 2010 she founded Analema Group arts collective whose ongoing project KIMA explores the art and science of visual sound. Site-specific interactive performances and installation took place throughout 2013-2017 in the UK and Europe.
Evgenia has been working on integrating poetry she has been writing since she was 14 into her art practice. She creates works on the intersection of sound and visual poetry through artist books, calligraphy, performance, and objects. She actively works with languages, drawing inspiration from possible hidden relationships and common roots between distant families. She often deconstructs language exploring its underlying meaning through the power of sound.
By Wojciech Feć
About the project
'What your ears looked like' is a series of collages made with discarded imagery – newspapers, posters, old magazines and anything else littering the streets of London, accompanied by a poem. Forgotten, abandoned images come together to tell ubiquitous stories of anonymous lovers, city streets, soap operas, fame, oblivion, and heartbreak that feels like the apocalypse.
Also featured in Mixed Media: The Constructed Self.
About the artist
Wojciech Feć is a London-based artist. His work culls from the otherworldly and bizarre: time travel, witchcraft, UFOs, quantum theory. Quixotic experiments, wacky inventions and contraptions take different forms – from analogue collage, to video work, to to 3D renderings, to sculpture – coming together in an eccentric Willy-Wonka-esque parascientific practice.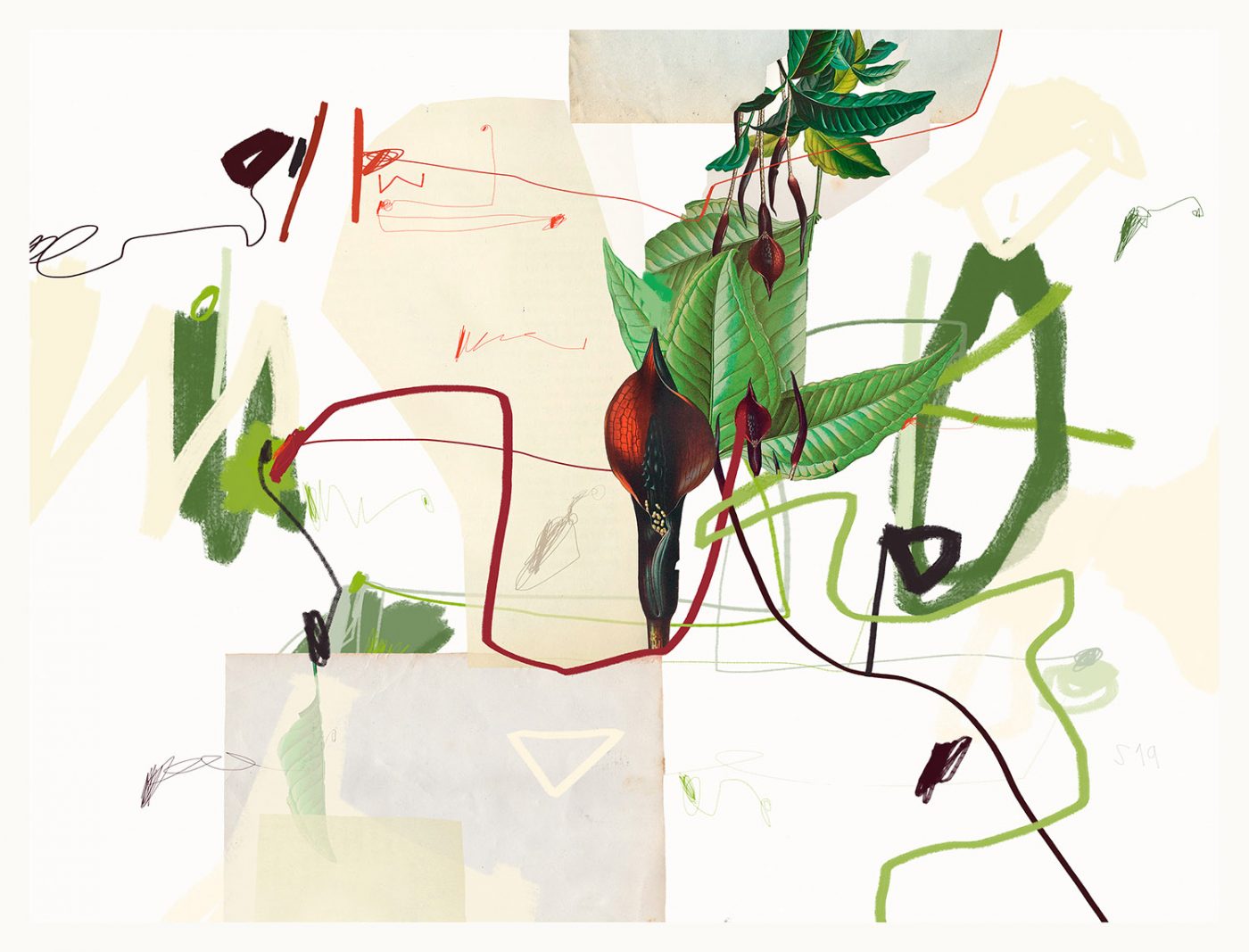 About the project
Garden Without Horizon (126x96cm, giclée on 308 grams paper, limited to 1 each) were influenced by the contrast between nature and urban elements, traditional art and technology.
About the artist
Sander Steins (b. 1973) work revolves around nature, industrial subjects, and technology. The technological developments of the past decades have made it possible for him to experiment with new techniques and blend them with traditional methods and materials.
In 2009 he held his first solo exhibition in Beek-Ubbergen (The Netherlands). Together with French artist Marijah Bac Cam he was awarded the Kunstpreis der Stadt Fürstenwalde (Germany) and the Prix lacritique.org during the Salon Réalités Nouvelles in Paris (France) 2014 for the work 21358SMart. In addition to this, he participated in many group exhibitions all over the world, including cities like Berlin (Germany), Los Angeles (USA) and Beijing (China), and his work was published in various media, including Cosmopolitan Hong Kong en Advanced Photoshop.
About the project 
The series "A Piece of the Pie" consists of more than 50 works.
Through their cartographic and biomorphic references, the works point to the discrepancy between the natural and the constructed space. The name of the series originates in the dialectic of the conquest of territory, especially the remains of the colonialist fight for influence where everyone tried to get a piece of the pie. The pieces are always fragments of an unknown lost whole. The works are mounted on the wall (similar to trophy heads of animals) and their relation to the space around them is intricate. At times, the edges of the works follow natural formations similar to physical geography and at others, they halt abruptly like randomly assorted international borders.
The individual pieces of the series are connected by their experimental quality and their material nature to form a complete unit. However, they also operate as a stand-alone system. The materials and textures highlight the interaction between different systems, analogous to our world and its diverse ecosystems.
Also featured in Evironment: Encounter.
About the artist
Abie Franklin (b. 1995) is currently finishing his studies at Kunsthochschule Berlin Weißensee in fine arts. He has exhibited his work in Germany, Israel, Ukraine, and China.
Centered around boundaries: between mediums, human-made and natural, body and space, material and matter, his work explores the estrangement of nature and its repercussions.
Read our interview with Abie Franklin: Painting the Inverted Space: A Choreography of Hybrid Forms