Here are our favorite projects from the ARTCONNECT network, featuring sculpture, installations, mixed media work, photography, and architecture. Click the links if you want to see more from each project.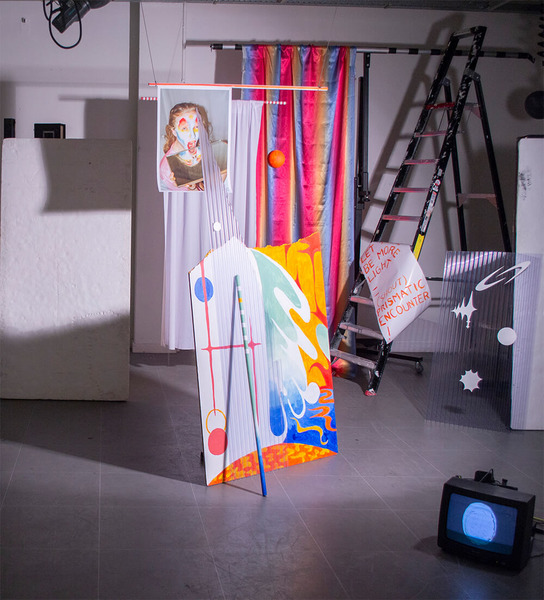 By Mika Schalks
About the project
Prismatic Encounters is a fictional melodrama about the conflict of light and color; how they need each other and where they originate from. This is a collection of visual experiments about a magic trick that changed the perception of color in the sci-fi universe where color is yet-to-be found.
About the artist 
Mika Schalks (b. 1998) is studying graphic design at the Royal Academy of Arts (KABK), The Hague NL, currently undertaking an internship at Holymotion Studio. Schalks is interested in creating dreamy fantasies and odd situations in different visual ways and works on multiple projects about archiving and preserving queer history for the future.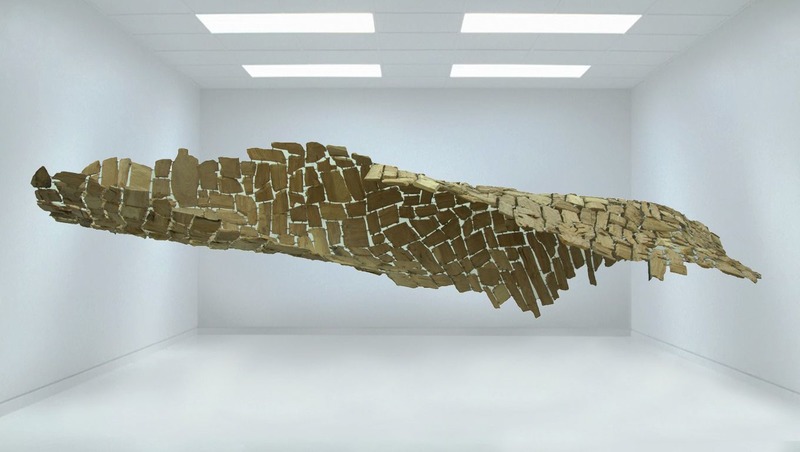 About the project
2011, Warsaw, PL
400 / 130 / 100 cm
wood, metal
Wooden elements-shreds, created in the process of execution of sculptures and left as waste in the studios of ten sculptors have been collected in this work to create a whole. The artwork restores the value of what is unwanted, rejected and worthless.
About the artist 
Mariusz Wolny (b.1980) – an interdisciplinary artist and art teacher working in the fields of installation, sculpture, photography and performance. He also initiates social projects and artistic interventions in urban space, seeking interaction with a random viewer. Wolny encourages viewers to actively participate in the process, to interact and to challenge the established manners of reception. His works reveal the paradoxes of everyday life, pose questions about man and his complicated relationship with the world and reveal problems of various social, political and cultural phenomena, often showing them in a distorting mirror.
About the project
Covering a fifth of China's land area and feeding a third of its population, the Yangtze which is the longest river in China, passes through Wuhan and has become a symbolic presence.
As a person who was born and raised in Wuhan, I grew up with the surging river, and the Yangtze River, which has not changed for millions of years, carries the life memories of generations. I had been interacting with it from a very subjective point of view, without properly observing and thinking about the universal objective significance presented in this natural space. Therefore, I hope to re-observe this amazing space from the perspective of spectator through the lens.
In this project, I took two rivers and four shoresides as geographical clues and used a 6X7 medium format film camera to try to explore the relationship between the Yangtze River and human being by recording the river and the land.
About the artist 
Zhishang Lian holds a Mdes in Photography from the Glasgow School of Art, Mdes in Photography. His practice revolves around fine art landscape and documentary photography.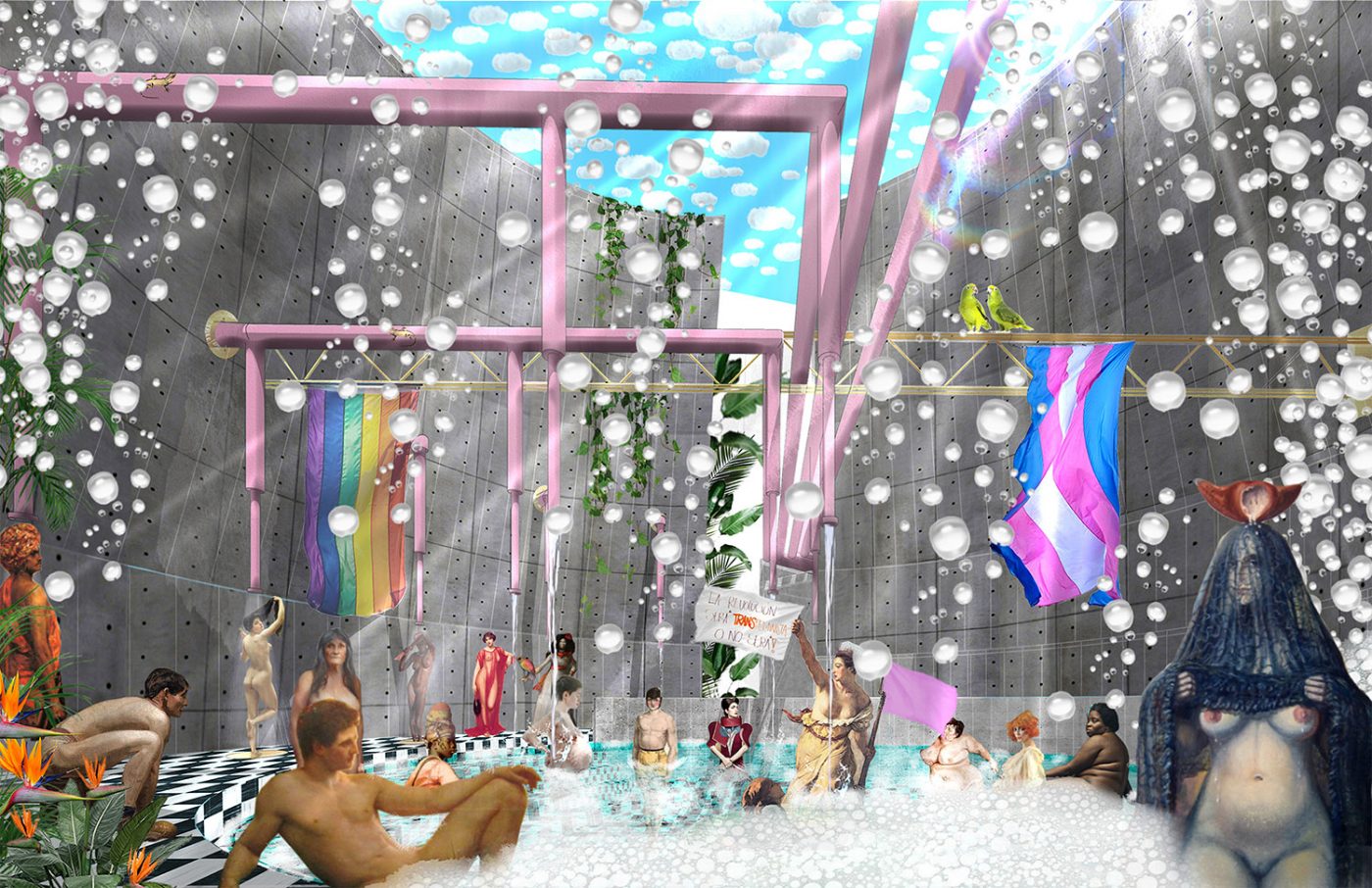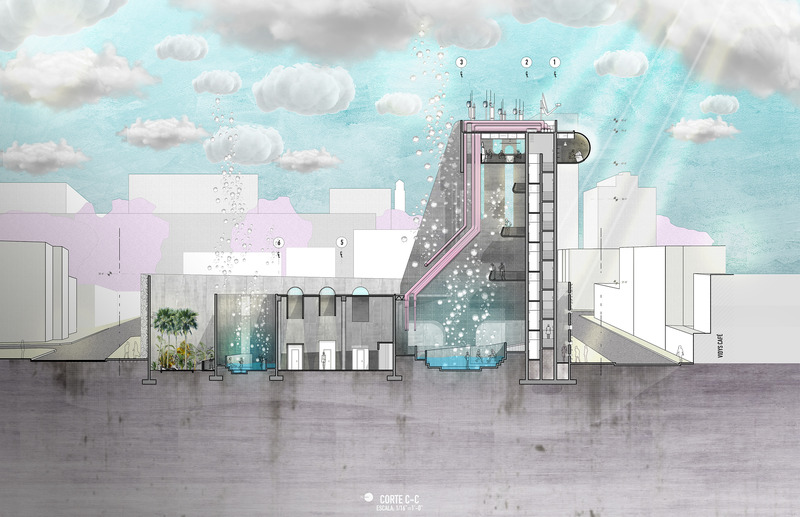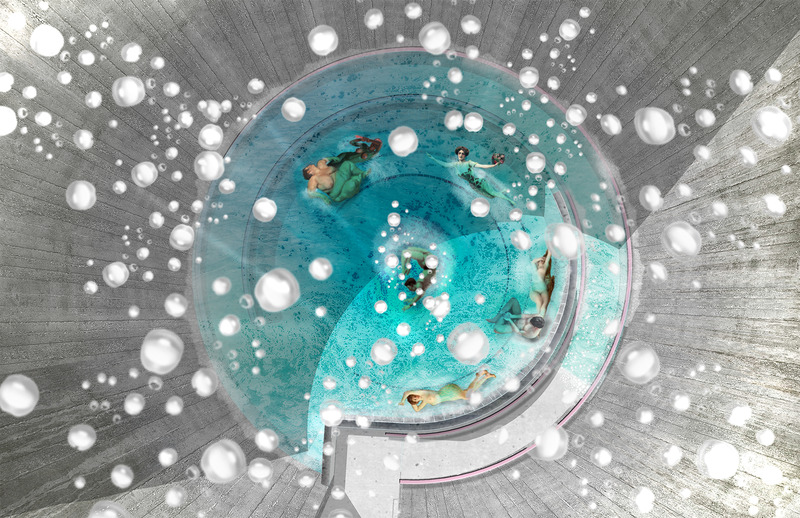 About the project 
The Baths for Queer Defense and [De]liberation, presents a QUEER ENVIRONMENT architecture where four main archetypes intersect and redefine themselves: inclusive bathrooms, thermal baths, deliberation spaces and a trans feminist queer surveillance digital center. The project responds to a previous theoretical investigation that problematizes the binary discourses that revolve around the public bathrooms at the University of Puerto Rico. This research process interpreted discriminatory discourses that often circulate on social networks like Facebook, against trans people who escape the rigid parameters of the binary gender system. Thus -with the intention of confronting these discourses- the project proposes a speculative architectural design for diverse bodies, which seeks to offer both spaces for protection, defense and deliberation, as well as relaxation, freedom and exposure of the body.
Located on Avenida Universidad in Río Piedras, San Juan, Puerto Rico, -in front of Vidy's Café, El 8 de Blanco and a Lutheran Church- the project is located as a confrontation to the policies of the space on this avenue and with its shops and institutions with a controversial history of attacks against LGBTQIA+ community. Thus, The Baths for Queer Defense and [De]liberation, builds a protective wall -whose façade exhibits pieces of urinals- that confronts its context and at the same time protects the bodies that inhabit the space. Within this wall, inclusive bathrooms, jacuzzis, movement-sensitive showers, relaxation and deliberation pools, nooks for diverse gender performativities, terraces to sunbathe those bodies that society asks not to be recognized coexist. Also, in this project, a social media observation tower is erected to seek transphobic "posts" in order to defend trans people, thus reversing the surveillance roles. This project creates a QUEER ENVIRONMENT, making diverse bodies visible and spatializing what is prohibited within the binary gender system: the existence of alternative ways of living and expressing gender.
About the artist 
Reily Joel Calderón Rivera (b.1995), a LATINO and queer Puerto Rican cisgender man. In 2017 he obtained his bachelor's degree in Environmental Design granted by the School of Architecture of the University of Puerto Rico, Río Piedras Campus, San Juan. Also, in that year he obtained a certification on Women and Gender Studies offered by the Faculty of General Studies of the same Campus. In 2020 he completed his master's degree in Architecture at the same institution. His master's thesis, which problematized the relationships of space and gender, was rated with an 'Outstanding Pass' by the members of his advisors committee.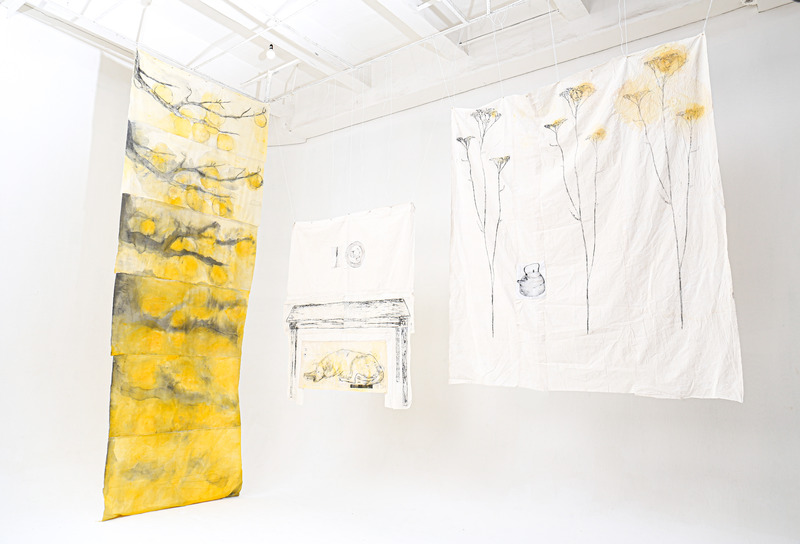 About the project
installation
drypoint, acrylic paint and fabrics
2020
My grandfather Igor, who unfortunately I did not have a chance to see, was in Chernobyl in 1986 as an engineer and liquidator of the accident. After receiving large doses of radiation, he died of blood cancer, leaving my grandmother Mila alone in a one-room apartment quartet, which was received as a reward for my grandfather's work. My grandmother, however, had two close friends Valya and Ira, who worked together with Mila and Igor in the same RosAtom Ministry and who also connected their fate to tragedy. In Chernobyl, Valya worked for three months as a secretary, Ira went with her husband only for a few weeks. All three women in the result received the status of "Chernobyl Widows", irreparable health consequences, painful memories.
The accident at the Chernobyl NPP is a disease that has poisoned entire generations. The people who lived through all this horror, who took part in the liquidation, who saw everything in real life, have been forgotten and abandoned like blunders in history. All experienced memories have been incorporated into their way of life, into their typical one-room apartments. This work explores the intersection of present and past, the indistinguishable consequences of the catastrophe: the permanence of the place and the incurability of the environment.
The installation is an image of a typical Khrushchev apartment in which Ira, Mila and Valya still live. Each heroine has her own room, which represents her perceptions of the past and today.
About the artist
Serafima Besler holds a BA in Illustration from British Higher School of Art and Design. Her practice consists of various large-scale and miniature projects, which are united by the theme and directions, as well as the format and materials. Bessler focuses on studying «human documents» and believes that our modern culture can easily undergo destructive processes. «Human documents» are revealed in the image of juxtaposition as a single structure of the antiquity and modernity. Her research is focused specifically on the study of these interweaving, which forms the human, and sometimes do not allow him to function frequently tying him to the yore or, on the contrary, creates the basis for new achievements.