Over 400 artists got involved in our Correspondence call, truly showcasing the beauty of art collaborations. Two winning groups will receive 250 EUR, an in-depth magazine feature, and a virtual studio visit with curator Brunno Silva. We are honored to present this winner announcement!
Winner Announcement by Brunno Silva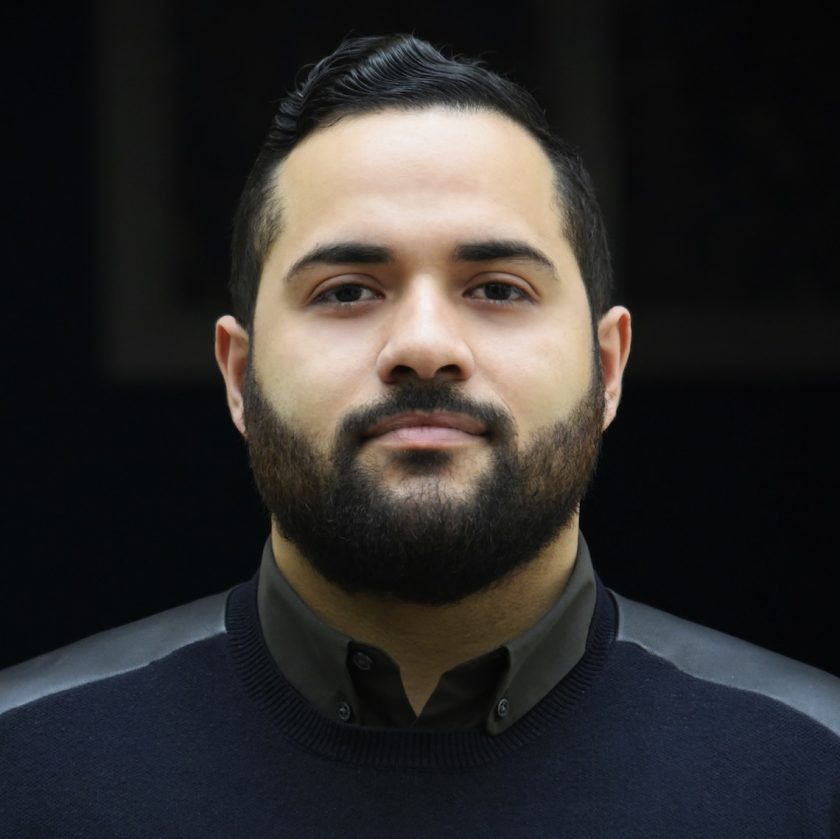 First of all, I would like to thank all artists who have submitted more than 200 proposals, representing in excess of 400 practitioners involved across projects that ranged from virtual collage, performance, painting, video, and sound. It was fascinating to observe the works intimately, singularly, and up close and, then, all at once as a diverse and eclectic whole dealing with the idea of collaboration in such fascinating ways. It was also revelatory to look at the works created before 2020 and observe how they behave conceptually with the now.
I believe that separation played a relevant supporting role in these submissions, and overall how art production is responding to the newfound challenges of forced distance. Even if artists are, of course, used to connect and reconnect through social media and other video or audio software, there is a palpable renegotiation of the tools' usability, and these have been explored almost as a medium itself.
So, with all of this in mind, please find below the winners of the Open Call Correspondence and watch out for the future open calls from ArtConnect.
Swapping Stickers (trocando figurinhas)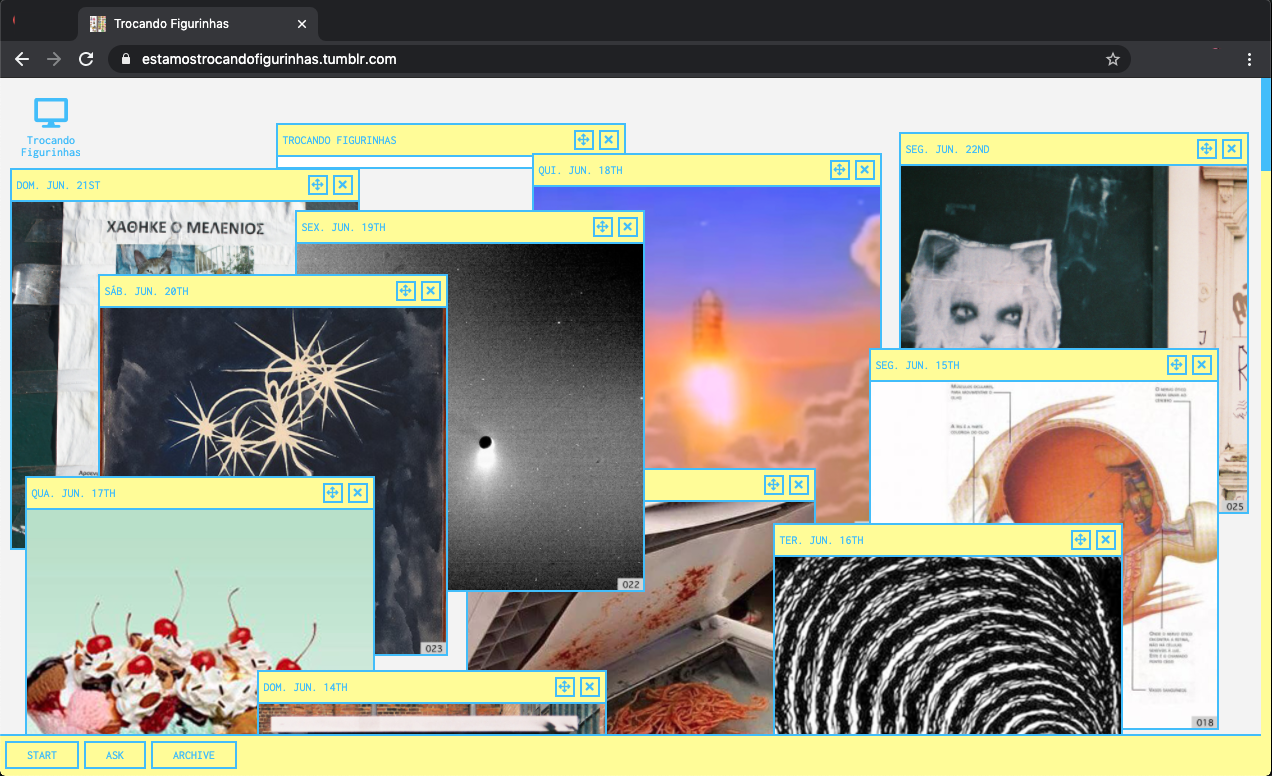 By Gabriel Pessoto & Nicole Kouts
"trocando figurinhas" (swapping stickers) is a research project in the form of visual correspondence and image exchanging developed daily on a blog by the artists Gabriel Pessoto and Nicole Kouts since May, 2020. For this open call, correspondence, we present an unfolding of this process that consists of a set of instructions that can be put in practice by anyone who feels encouraged to perform this action.
The video "trocando figurinhas: operação piloto" (swapping stickers: pilot operation) shows us following the instructions and presents a possible way to perform the action. The project operates as a post-internet version of messages in bottles that were thrown into the sea and taken to an indefinite destination. Likewise, these letters written together by people and automated tools become digital archives that can navigate to any point on the web (or even different points simultaneously). Enigmatic memos to remote recipients, instructions invented to keep in touch.
Brunno Silva's Statement
Swapping stickers is a performance with clear and simple activation instructions: two participants generate a random text and subsequently engage in a word per word illustration online search, the result is a encrypted visual poem that contains very little of its origins. Whilst considering the video recording alone, the artwork displays a familiar scene where two people that, although in communication, remain in isolation with their own computers.
The growing use of images and gifs for communication is seemingly unstoppable, thus the artwork's sole use of images is illustrative of the shortfalls of human communication, regardless of media or form. It represents our constant pursuit to reduce this distance. Alan Turing's love letter generator (1952), considered by many as the first work of New Media Art, explored how a computer could attempt to emulate a human romantic voice. 2020's swapping stickers is a performance that extends the exploration of communication between humans and machines, and all their interferences.
A New Routine – We Need to Draw from Distance to Understand
By Ginna Alejandra Vélez Carrasco & Noor us Sabah Saeed
"A New Routine- We Need to Draw from Distance to Understand" is a collaboration between two interdisciplinary artists respectively Ginna Alejandra Vélez Carrasco from Bogotá, Colombia and Noor us Sabah Saeed from Karachi, Pakistan. The interactive-performative exercises are designed to understand each other's new routines by a mutual concordance between an emitter and a receiver. Both artists allow each other to spend some time through Skype to understand: What is keeping them motivated, healthy and productive during self isolation in the current global pandemic? And which spaces in the house they spend most of their time?
Brunno Silva's Statement
A New Routine turns its gaze to the everyday lives of the two artists in two forms: the first, is the camera that we see through and the second is each artist observing the other through a video call software. In this work, the video quickly engages the viewer with debates of high and low culture and questions around the performance of being an artist. Bruce Nauman claims that all an artist does in a studio is an artwork, here Ginna and Noor transform their residences and their surroundings into critical additional elements of a constant debate of what artists should be doing and how much artistic production exists in the ordinary. Is the dog a character within an unexpected narrative? Are the dance movements a performance in their own right? Or considering the second part of the artwork, is it possible to make drawings from a non-present subject? How much of the artworld has successfully moved to the online sphere?
By framing an almost-familiar extraordinary exchange, New Routine creates a microcosmos of the art world's past and present behaviour and the conundrums around what constitutes art and artistic production.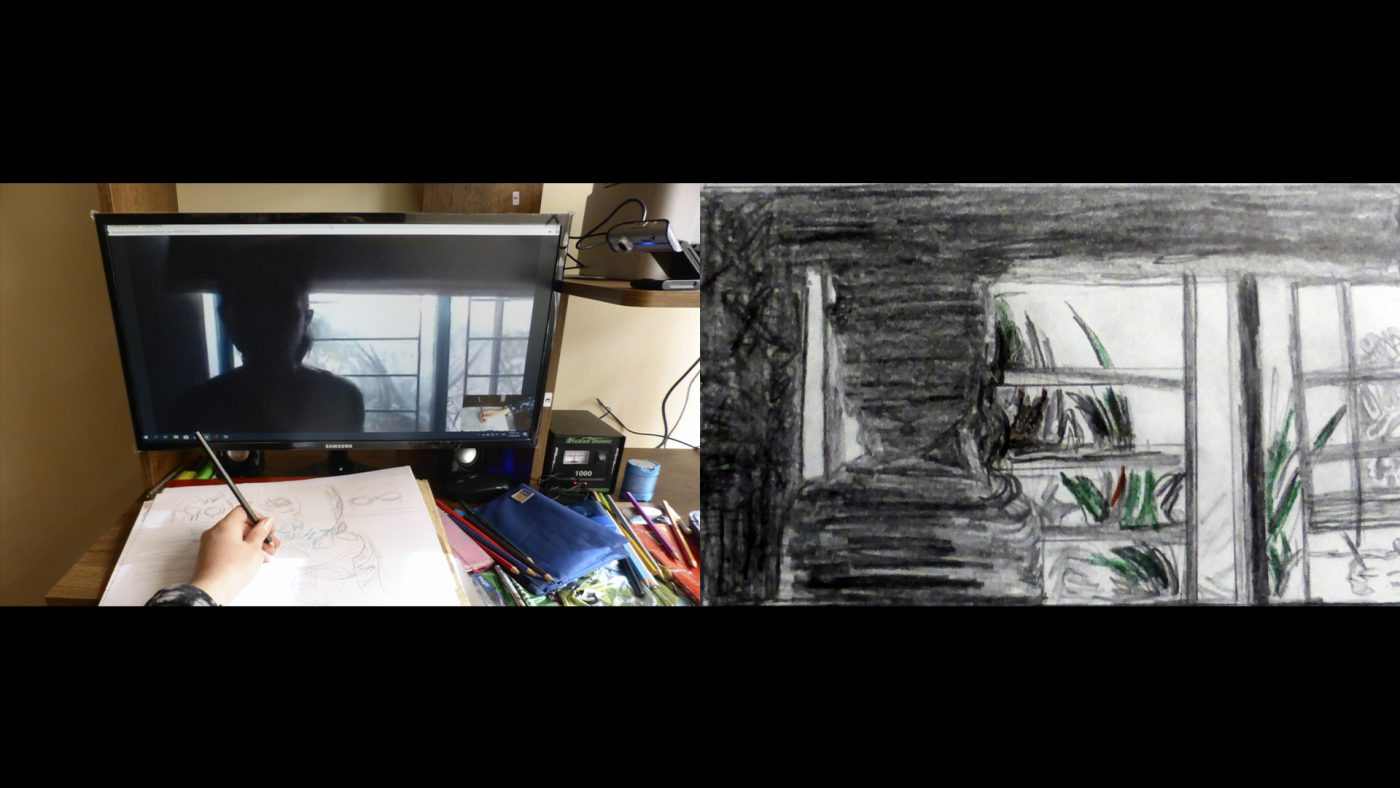 About the Curator
Brunno Silva is a curator, art consultant and writer based in Berlin, London and Southern Italy.
Originally from São Paulo, he moved to Berlin in 2013, living in the city has allowed him to access the unique Berlin art scene from an international perspective, this cross-cultural approach is present in most of his projects. Recently Brunno lived in London for two years, where he attended the MA in Art Business at Sotheby's Institute of Arts.
With a specialisation in Western (and Western-influenced) contemporary art, Brunno has a particular interest in moving image, installation, sculpture and photography. Whilst working with emerging artists in his curatorial practice, Brunno uses current technological and social-political theory to engage audiences with artworks in context with broader aesthetic and political debates.
See more of Brunno's work