Oscar Veyrunes
En attendant Daegu Vernissage
Donnerstag 20.08. 18:00-22:00
Ausstellungsdauer: 20.08. - 26.08.2020
Öffnungszeiten :
Montag-Freitag 16:00-20:00,
Sa-So 12:00-20:00
(DE)
Wir freuen uns sehr, die 7-teilige Videoserie "En attendant Daegu" des deutsch-französischen Künstlers Oscar Veyrunes in der Retramp Gallery zu präsentieren.
In dieser Show wird die Auseinandersetzung mit dem Prozess der aktuellen Corona Krise durch eine autobiografische Herangehensweise des Künstlers präsentiert.
Der Künstler zeigt sich in seinem Zimmer, wie eine Anti-Hero Figur, umkreist von Informationsflüssen, Schockmomenten, Verständnislosigkeit, den Schwierigkeiten sich weder politisch noch emotional positionieren zu können, dem Kampf um die Hoffnung, dem Warten, dem Blockiert sein innerhalb der eigenen vier Wände.
Innere und Äußere Dimensionen, ineinander verschlungen, werden zum Spiel von Dualitäten und Gegensätzlichkeiten die das komplette Bild einnehmen und verschiedene Denkräume eröffnen.
Anhand der 7-teiligen Videoserie werden bestimmte Momente aus dieser unerwarteten und spezifischen Corona-Zeit sichtbar, in welchen der Künstler sich vordergründig mit seiner bevorstehenden Residenz in Daegu auseinandersetzen und von zu Hause aus darauf vorbereiten möchte.
Doch während die globale Pandemie Schritt für Schritt den geplanten Ablauf aller Individuen und letztlich des Weltgeschehens lahmlegt, wird die Beschäftigung mit der vielversprechenden Residenz in Daegu (eines der Epizentren der Pandemie) zu einer Utopie und zu einem Protokoll (des gezwungenen Innehaltens) angesichts der globalen Krise.
In diesen Höhlengleichnis-artigen Inszenierungen entsteht eine Kartographie seines Prozesses; bevölkert von Versuchen, Träumen, Ängsten und Unbekanntem.
(EN)
We are very happy to present the 7-part video series "En attendant Daegu" by the German-French artist Oscar Veyrunes in the Retramp Gallery. The show will present the process of the current corona crisis through an autobiographical approach by the artist.
In his room he shows himself like an anti-hero figure, surrounded by information flows, moments of shock, lack of understanding and the difficulties of not being able to position himself neither politically nor emotionally ; a fight for hope, always waiting, being blocked within his own four walls .
Internal and external dimensions intertwined become a game of dualities and oppositions that occupy the whole picture and open up different spaces of thought.
The video series shows certain moments from this unexpected and specific Corona period, in which the artist would like to deal with his upcoming residence in Daegu and prepare for it from home.
But while the global pandemic is gradually crippling the planned course of all individuals and ultimately world events, dealing with the promising residence in Daegu (one of the epicentres of the pandemic) is becoming a utopia and a protocol (forced to pause) in the face of the global crisis.
A cartography of his process emerges in these Plato´s cave-like stagings, inhabited by tryings, dreams, fears and unknowns.
---
---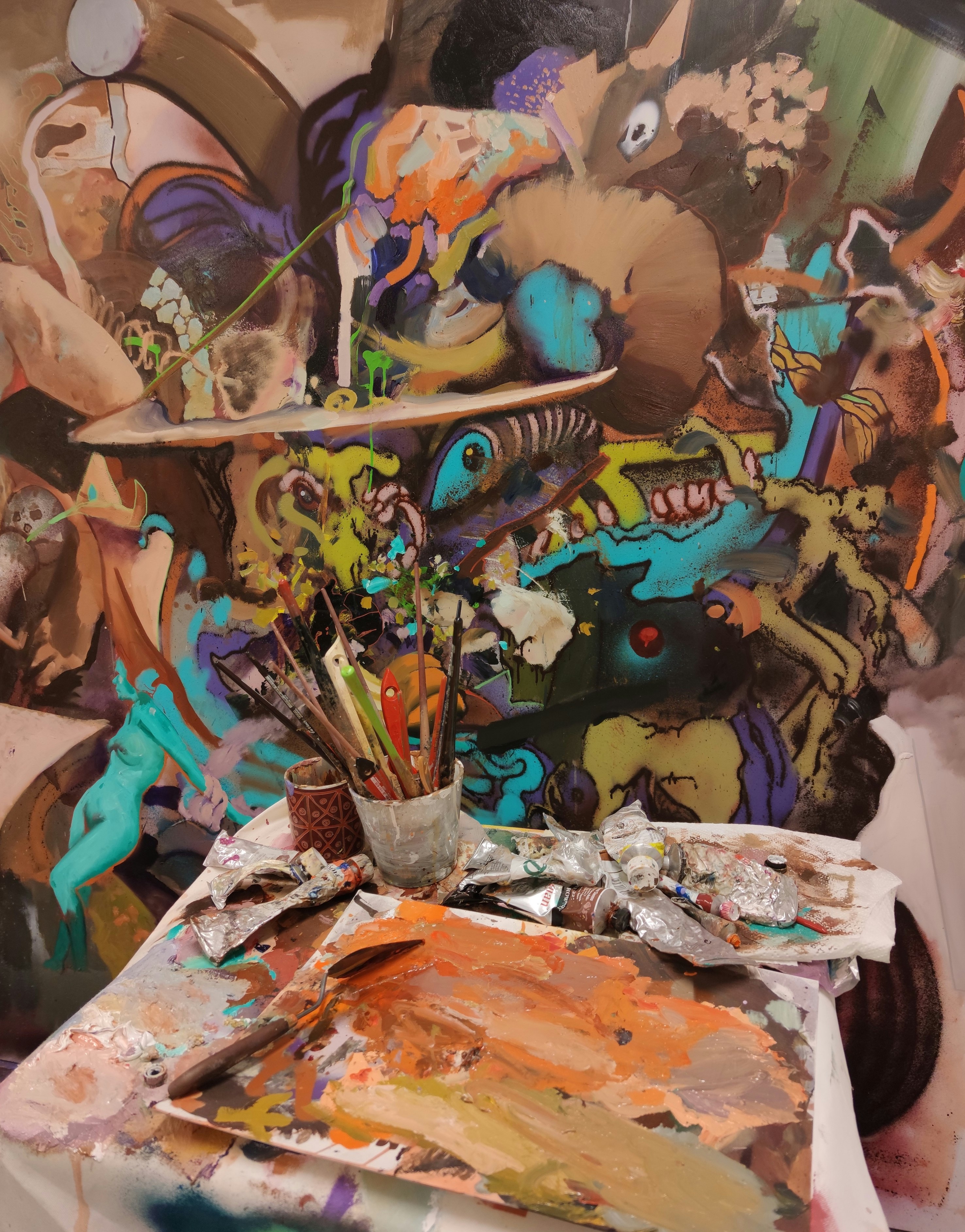 ---